…Says, All they want is to make money
BY ADETUTU  ADESOJI ADERONKE ADEYERI
Your first love was painting and sculpting, why did you decide to go into music and acting?
I saw the painting and sculpting moving in human beings and I ran away (laughs).
When did you start performing stage plays?
That should be 30 years ago.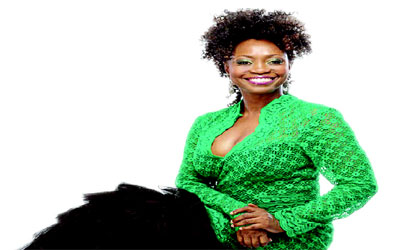 Having been in the entertainment industry for 30 years, how have you managed to remain relevant?
I don't know how it happened; I just bless God because he made it happen.
Is Isale Eko, the stage play, a part of the Lagos at 50 celebrations?
I think it kind of coincides with it obviously, so let's just celebrate Lagos at 50 since its happening about the same time.
How did you get to be part of the cast for the play?
People, family members and also the executive producer of the play called me, the producer Mr. Kehinde Oretimehin wanted a song for the play and he got it.
People believe stage play is the soul of acting, more original than screen movies that have gone through editing and all, what is your take on this?
Original is not the point, stage play is just the foundation for every other thing to fly. It is just something that gives you a strong ground.
If you were to choose between music and acting, which would you choose?
I will not choose, I am an entertainer and I have been blessed to be one.
In terms of your music, should your fans expect anything from you soon?
Yes
How soon?
Very soon (smiles).
As a veteran singer doing a unique genre of music, have you ever thought of organizing a concert?
I organize concerts, it's just been quite delicate to do another but I will definitely do it again.
Do you have a concert coming up anytime soon?
We are working on that.
What is your take on the level of nudity in musical videos these days?
Well, we can't blame everybody, the younger generation is working very hard and their videos are on point if you ask me, even though they have a lot of low content with women, money, alcohol and all. They are keeping the house running until the people that own the house will wake up to do something right about it.
What do you think the younger generation is doing wrong that needs urgent attention?
It's a young generation and whatever they need to do should be done now. They are young and free, everything about them is alive and vibrant. They are motivated to live their life and live it all, so you can't blame them. However, in the midst of it all there are quite a number of them that are decent.
What is your relationship with the younger female artistes in Nigeria?
Quite cordial. It doesn't matter if they know me or not, what matters the most is that when I see them I say hello. You must always say hello that is how the land we live has taught us, say hello to anybody, either big or small.
Why is it that when some musicians get to a particular stage they tend to stop releasing music instead they focus on stage performances and shows?
I really don't know, if that is a trend, I do not know. I believe everybody in the world has different approach to their craft. Let us not knock the fact that some people have a particular approach to something, we cannot just decide for people what they want. It's just that over here we do a lot of 'follow follow' which means such a person does not know who he or she is, from the beginning and so there is a serious question mark somewhere.
How do you see the music industry generally, do you think it has attained its full potential?
We are just starting up as far as I am concerned. We are yet to get to the nitty-gritty actually. We have a foundation let's go back to it, let's find power and make the foundation strong. What we have before is different from what we should have and where we should be now but it doesn't matter, we can always continue from where we left off.
What is your advice for up and coming entertainers?
They wouldn't want to hear the advice I have for them.
Why do you think so?
All they want to make now is money, so, there is really nothing to tell them. All I can say is that when they are really ready for the show let's start. We would sit down and table everything then we begin properly.
What was growing up like for you?
It's a major lesson, it has made me better and stronger.
What does fashion mean to you?
Fashion is what you make it actually, it doesn't decide anything. You can do without it as long as you are happy and do not offend anybody with the way you dress.
Is there a fashion item or accessory you would never be caught wearing?
There is none.