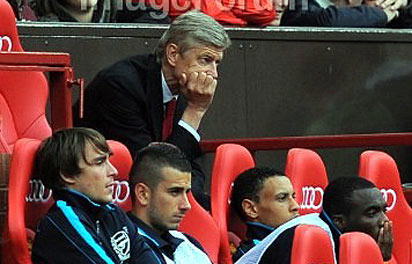 Arsenal's French manager Arsene Wenger looks on during the match . Photo: AFP.
Arsene Wenger surrendered his proud record and Arsenal fans heralded their return to the Europa League with an invitation for owner Stan Kroenke to leave.
The focus of protest has shifted from Arsene Wenger as the Premier League campaign ended with a breathlessly entertaining victory against Everton.
'Stan Kroenke get out of our club,' said the home fans, as the players prepared for an empty lap of appreciation.
The FA Cup final awaits but Wenger has leaned heavily on his 19 successive years in the Champions League.
The last time he failed to reach Europe's elite competition was in 1997, the season when he arrived at Highbury in October, and the year when Tony Blair swept into Number 10 with a landslide election victory.
In terms of the top four, the damage was done long before Ronald Koeman and Everton rolled into north London.
Arsenal have lost nine times in the Premier League this season.
They went into the game hoping Liverpool might not beat Middlesbrough but Jurgen Klopp's side were 3-0 up at Anfield, early in the second half.
The news rippled around the Emirates Stadium and social media welcomed the Londoners into the haunting sphere of Thursday nights in the Europa League.
But there was enough breathless thrills and spills to train the focus on the pitch and keep that spectre at bay for a few minutes longer.