One point at Watford on Sunday will make certain of Manchester City's place in next season's Champions League, while a victory will take them into the group stages without the need for a play-off.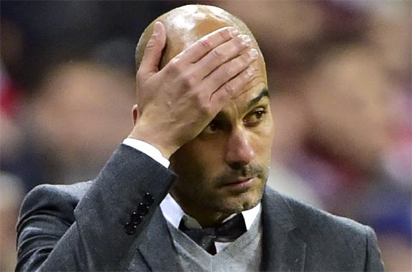 Securing qualification would ensure finishing the an upbeat end to a season that has been littered with frustrations for Pep Guardiola.
The former Barcelona and Bayern Munich manager arrived in Manchester last July with a record of 21 trophies in seven years as a coach, and was widely expected to continue that record of success in England.
Instead, he has ended the campaign with no trophies, and even if his team win at Vicarage Road to secure third place, it will still represent the lowest league finish of his managerial career.
One player under contract beyond the summer whose future still appears to be in doubt is Sergio Aguero, whose chances appear likely to be limited whenever Gabriel Jesus is fit.
Guardiola has suggested the only way the two can play together is with Aguero in the central striking role and Jesus out wide, which was how they lined up against West Brom.
An attempt to play them together as strikers at Middlesbrough last month failed, but Guardiola is willing to use both when he can accommodate them.
"The way we played against Middlesbrough was completely different to the way we played against West Brom," said Guardiola.
"Jesus was not an out-and-out winger, he was a little bit more inside, but just a little bit. Against Middlesbrough we played with two strikers.
"Gabriel in Brazil, when he was young, he always played down the sides. I said from the beginning that both can play together."
Walter Mazzarri, the Watford manager, will take charge of the club for a final time after being told by the club's board this week he would be leaving the club this summer.
The future of the Italian, who was one year into a three-year contract, had been subject to speculation for some time but Mazzarri insists he achieved his main objective for the season by avoiding relegation and says he will be disappointed to go.
"When you leave an era like this, it's normal to feel sad," said the 55-year-old former Napoli and Inter Milan handler.
"I want to say that I always gave everything I had at Watford.
"I worked 15 hours a day, every day and I'm tired. I'm also happy as I reached another objective in my career which was to avoid relegation here.
"I'm a bit disappointed as I was embraced by the Watford family, so it's normal to be emotional as it's been my home since the first day I was here. I'm very tired now and need to relax.
"The fact is we managed to get to this magic 40-point mark which was the main objective of the season when there were six games left."