South Africa's main opposition party on Tuesday sued President Jacob Zuma and 11 other people over corruption and influence-peddling by the wealthy Gupta business family.
The news agency said the Democratic Alliance (DA) filed charges against Zuma, his son Duduzane Zuma, the brothers Atul, Ajay and Rajesh Gupta.
Others are Finance Minister Malusi Gigaba, three other cabinet ministers, two directors of Gupta-linked companies and a former executive of the state electrical utility Eskom.
The brothers of Indian origin are suspected of obtaining lucrative state contracts and even influencing ministerial appointments because of their friendship with Zuma.
However, the president and the Guptas denied wrongdoing.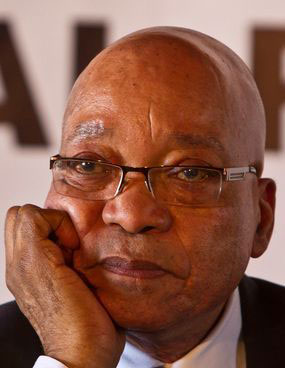 Former anti-graft watchdog Thuli Madonsela released a report on the so-called "state capture" by the Guptas in November, calling for a judicial inquiry.
Zuma initially rejected the report, but his African National Congress party gave green light to the inquiry at a weekend conference.
The "Zuptagate" scandal has done enormous damage to Zuma and the party, with calls mounting on the president to resign.
The DA filed the charges after media reports quoted e-mails from Gupta affiliates allegedly revealing that the brothers had hosted cabinet ministers and directors of state-owned companies on luxury trips to their home in Dubai.
They allegedly even planned to help Zuma set up a second home in Dubai, although the president denied the reports.
"The e-mails show the extent of the rot within the government,'' the DA said in a statement.
Report says Zuma also faces a no-confidence vote in parliament and court action by the second-largest opposition party Economic Freedom Fighters to impeach him.