CALEB AYANSINA
ABUJA – A 7-Man delegation from the National Youth Service of Sierra Leone has arrived Nigeria to understudy the set up, achievements and challenges of Nigeria's National Youth Service Corps scheme.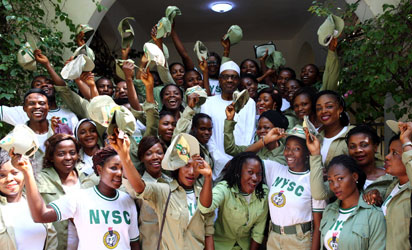 The visit, according to the leader of the delegation, Dr. Sheku Kamara would enable them improve on the development of their country's nascent National Youth Service scheme.
Kamara explained that Sierra Leone has been struggling to set up the National Youth Service scheme for a period of time; but it was only last year that President Ernest Koroma launched the scheme.
Receiving the delegation in his office in Abuja, The Director General of the NYSC, Brig-General Suleiman Kazaure, reiterated their readiness to assist the government of Sierra Leone in their quest to have efficient youth service scheme in their country.
Kazaure told the delegation that the timing of the visit was apt as it coincided with the time of 'our camp orientation exercise', therefore, it would afford them opportunity to gather information practically from the field.
Consequently, NYSC Orientation camp in the FCT and Kaduna were chosen with a committee set up to conduct the delegation round
and equip them with all needed information that will aid the scheme in their country.