By AbdulSalam Muhammad
KANO — Kano State House of Assembly, yesterday, called off the probe of the Emir of Kano, Muhammad Sanusi 11, over Kano Emirate finances, following the intervention of some prominent Nigerians.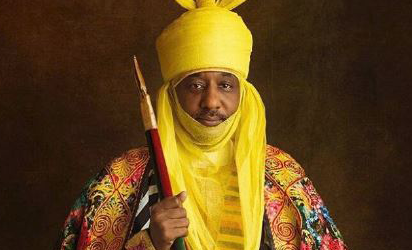 They include Acting President, Professor Yemi Osinbajo; two former military Heads of State, General Ibrahim Babangida (retd); General Abdulsalami Abubakar (retd), the Sultan of Sokoto, Sa'ad Abubakar; Aliko Dangote, and Aminu Dantata.
The state governor, Abdullahi Umar Ganduje, in a letter to the House and read by the Speaker, Alhassan Rurum, asked the lawmakers to halt the probe of the emir.
Vanguard learned that in the letter, Governor Ganduje listed the names of the Acting President, Yemi Osinbajo; party leaders, former heads of state, Ibrahim Babangida and Abdulsalami Abubakar, Sultan Sa'ad Abubakar, Aliko Dangote, Aminu Dantata, among others, as those who lobbied on behalf of the emir.
While Ganduje pleaded with the lawmakers to suspend the investigation, he, however, recognized their independence as an arm of government.
The governor explained in the letter that at a peace meeting with the emir in Kaduna, the emir admitted all his mistakes and apologised to him.
A member of the House, who spoke on condition of anonymity, confirmed to Vanguard that the governor actually asked the House of Assembly to stop the probe of the emir in honour of the prominent citizens, who intervened on the traditional ruler's behalf.
Consequently, the House unanimously approved the governor's request by suspendin g further action on the probe.
But a member from Kano South, who spoke with Vanguard on conditions of anonymity, expressed  displeasure over the overbearing influence of the executive, which brought the Sanusi II saga to an abrupt end.
"We wanted to set the record straight, and restore dignity to royalty but the intervention from eminent Nigerians has put an end to it," he said.
An impeccable source in the House confided in Vanguard that plans were on by the lawmakers to create additional four emirates in the state.
Kano, a one city state of 15 million people, with 44 local government areas, has one emirate council following the creation of Jigawa State in 1991.
The source said the new thinking was "designed to water down Sanusi II's larger than life image of his emirship and restore dignity to royalty that is fast losing its candour and respect under his watch."