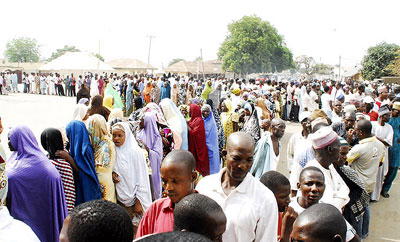 Female voters (with men) at Keffi, Nasarawa State during Saturday botched National Assembly election.
By Sebastine Obasi
The Petroleum Technology Association of Nigeria, PETAN, has urged the Federal Government to reduce bureaucracy and cut production cost by 40 percent so as to engender more investment in the nation's oil and gas industry.
In a communiqué sent to the Federal Government at the end of the Offshore Technology Conference, OTC, held in Houston, Texas, PETAN stated that it was imperative to cut red tape-ism, reduce contracting cycle from nine months to six months, address distrust between the international oil companies, IOCs and government, ensure transparency, as well as consistency  and predictability of policies
The communiqué by PETAN's Chairman, Bank-Anthony Okoroafor, added, "We can knock down cost by 40 percent by adopting Brazilian model, standardize facilities, standardize 150,000 barrels, bbl."
"We need to set up consortiums like Bonga South West so that we can sustain build in-country capacities. Collaborate to fund all these projects instead of raising funds in Silos. Synergize in all assets work and encourage reduced logistics costs from $23 per barrel, bbl. to $2 per bbl by working together and  sharing vessels, security and management of assets.
"As regards the yet to be implemented Project 100, PETAN recommended that the Federal Government should identify 100 Nigerians with capacities, energy and skill who can make a change, identify their handicaps and create right policies to help them get to the finish line."
While identifying paucity of investment funds, made case for harnessing local long term funds like pensions, sovereign funds into long term productive and profitable infrastructure assets like gas, power, lines, refinery, utilities, as was done by other pension funds in developed countries. According to PETAN, lead contractors in every project must have solid Infrastructure in-country, while there should be closer cooperation between various key ministries to enhance growth in the industry.
Niger Delta region challenges were not left out, PETAN stated that "the government should address security issues in the Niger Delta, execute the promises made to Niger Delta, broaden the space of participation in the industry, plan security in new pipeline approval by Department of Petroleum Resources, DPR, while IOC's should come with blueprint on how to update this.
"We should grow our reserves, ring fence the exploration budget. 90 percent of all projects need steel. We should have one functional mill in the next five years. This will be the catalyst for building all facilities in-country."