.H.H. the Emir Sheikh Tamim bin Hamad Al Thani officially cuts the ribbon in front of more than 40,000 fans at Khalifa International Stadium in Doha, Qatar
.FIFA President Infantino attends Emir Cup 2017 final and says stadium launch gives FIFA confidence in Qatar's tournament preparations
.Stadium will host quarter finals in 2022, 2017 Gulf Cup and 2019 IAAF World Championships
.Sustainable cooling technology installed to keep players and fans comfortable year-round
More than 40,000 football fans attended the launch of the first proposed host venue of the 2022 FIFA World Cup™ in Doha this evening, with H.H. the Emir Sheikh Tamim bin Hamad Al Thani officially cutting the ribbon at the new Khalifa International Stadium in front of the sell-out crowd.
The official inauguration ceremony included a light show from the newly installed LED lights, a performance from the Emiri Guard and a stunning firework display that saw pyrotechnic experts display 2022 in the sky above the stadium in fireworks to mark the opening of the World Cup venue. The final of Qatar's biggest domestic trophy, the Emir Cup, kicked off shortly afterwards as the stadium's first sporting event since being renovated ahead of the 2022 FIFA World Cup™.
Speaking on the launch of Qatar's first World Cup stadium, Gianni Infantino, FIFA President, said: "As organisers, to see a 2022 FIFA World Cup stadium already delivered and fully operational is a great joy, besides giving us confidence regarding the level of preparations in Qatar. There is undoubtedly strong commitment from the local authorities through the Supreme Committee and although five years seems a long way off, the benefit of time will make sure Qatar delivers an amazing tournament in 2022."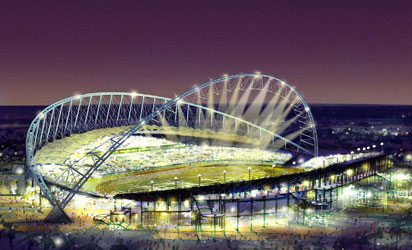 Expanded to seat more than 40,000 spectators, the stadium has undergone extensive renovation works ahead of the FIFA World Cup™, when it will host matches until the quarter-finals. These include the installation of revolutionary cooling technology promised during Qatar's successful bid, which tonight kept the pitch at 20°C and the stands at 23°C while using 40 percent less energy than traditional cooling methods.
H.E. Hassan Al Thawadi, Secretary General of the Supreme Committee for Delivery & Legacy (SC), the organisation responsible for delivering the infrastructure required to host the 2022 FIFA World Cup™ Qatar, said of the launch: "The completion of our first stadium more than five years before the Qatar World Cup begins is an important milestone that reflects our determination to deliver a tournament the entire Arab world is proud to be a part of.
As we promised in our bid, our innovative stadiums offer an unrivalled experience to fans and players alike. I'm proud we can show these off to the world and welcome fans with the hospitality this World Cup will be remembered for."
Other new features at the stadium include the installation of a larger roof over the entire spectator area, with an intricate net of German and Italian-made steel tension cables weighing 4,000 tonnes holding 92 panels in place, while the stadium will also be the first FIFA World Cup™ venue and the first stadium in the region to be lit by LED lighting, which is both more sustainable and more versatile than traditional lighting.
Even the pitch at Khalifa International Stadium has a rich story to tell: designed to be perfectly suited to Qatar's climate, it was developed at the SC's nearby Turf Nursery – the only one of its kind in Asia – and was laid in a new world record time of 13 ½ hours.
Qatar Football Association (QFA) President, Sheikh Hamad bin Khalifa bin Ahmed Al Thani, added: "Khalifa International Stadium is close to Qatari hearts and has seen some of Qatar's biggest sporting occasions over the years since it was first launched in 1976. It was therefore a fitting venue for the biggest match of Qatar's football calendar, the 2017 Emir Cup final between Al Rayyan and Al Sadd. I'm glad the fans got to enjoy this event in such a magnificent remodeled stadium."
Located in the world-famous Aspire Zone, Khalifa International Stadium already offers a range of nearby leisure amenities. During the World Cup, however, fans will also be able to travel to and from the historic venue via a dedicated metro station on Qatar's national metro project, QRail. Once completed, Qatar's tournament infrastructure will keep journey times between all FIFA World Cup™ stadiums and accommodation locations below one hour, enabling fans to watch more than one live match per day for the first time in FIFA World Cup™ history.
Following a 92nd minute assist from Al Sadd captain and FC Barcelona legend Xavi Hernandez, Al Sadd SC ran out eventual 2-1 winners over Al Rayyan SC to secure a domestic trophy double.
Subscribe for latest Videos