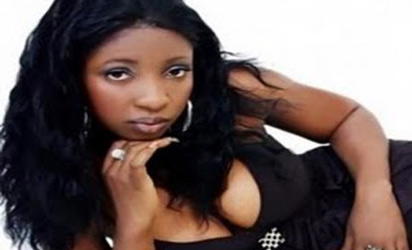 *Anita Joseph
BY ROTIMI AGBANA
Junk in the trunk actress, Anita Joseph, is obviously not in the class of controversial entertainers in Nigeria, but she sure knows how to attract attention when she deems it fit.
On Friday, May 26, 2017, the curvy actress sent the social media agog with a photo suggesting she is pregnant with a set of twins. The photo which has since gone viral on social media has generated series of mixed reactions from her fans and critics. Some expressed excitement for the pretty actress, congratulating her while wishing her well. Others condemned her for getting pregnant out of wedlock.
A fan simply identified as @Patchyn12 wrote; "Happy for you but hope you are married o. It is not African culture for women to be pregnant without being married first." Anita was quick to respond, stressing that being pregnant out of wedlock is not a big deal. Are you alright?  Must I be married to be pregnant? Oh please, who needs marriage help? African nonsense! @patchyn12,  wish me well that is all, ndi africans ana akoyeri", Anita lashed back.
@Patchyn went further to accuse Anita of encouraging prostitution, immorality, armed robbery and hooliganism, among the younger generation in the society. "You don't have to be married to be pregnant, I know that; but this new norm is destroying our youth and this is part of the reason our society is in deep moral decay. Bastards that are born every day without good upbringing. Most are the future armed robbers, killers, prostitutes and never do wells of the future. You people especially in Nollywood should show better example to the new generation."