For financial support to IAAF Bronze Label event, Pamodzi Sports Marketing, organisers of the Okpekpe international 10km road race has thanked sponsors and donors who provided the over N150m financial and other logistic support towards the success of the fifth edition of the race held penultimate Saturday in Okpekpe, Edo state.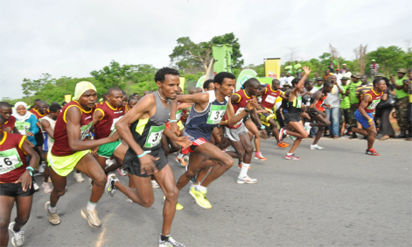 ''The Okpekpe road race since inception in 2013 is a private sector driven event and this is why we are grateful to corporate Nigeria who have stood by us in terms of their financial support to see that the race did not only grow but also become certified by the world governing body for the sport,the International Association of Athletics Federations (IAAF) which accorded it a bronze label status in 2015,'said Mike Itemuagbor,promoter of the race and CEO of Pamodzi Sports Marketing.
'We are grateful for the support Ecobank Nigeria, a subsidiary of the Ecobank Group has given us since we became a bronze label race in 2015.In fact this year the bank increased its financial support as official bank of the race,'revealed Itemuagbor who also thanked such banks as Access Bank and Keystone bank for their donation as well as a consortium of insurance companies who provided cover for the race.
'Cornerstone Insurance,Sovereign Trust and Leadway insurance also contributed to the success story the Okpekpe race has become today,'he further said.
Itemuagbor is especially grateful to His Excellency,the executive governor of Edo state,Godwin Obaseki whose interest in the race attracted some of the donors who made some substantial donations to the race.
'I want to thank the governor,the government and the good people of Edo state for their support.Edo state government provided the fantastic infrastructure that made the race possible in the first place.Without the road constructed from Auchi to Okpekpe I don't think the idea to have a 10 kilometre race there would have even crossed our minds.
'I also thank the governor and government of Edo state for also providing the enabling environment as well as helping with the payment of the prize money to make the race a success.I want to call on more corporate Nigerians and government to come on board and partner with us as we prepare to announce another race in another sate in due course,'Itemuagbor added.
'The Okpekpe race has aided sports development in the state and any rational mind would undoubtedly agree that sports development in Edo and Nigeria is something that we should  pursue vigorously. To do so, it requires investment, it requires government commitment and that's what Edo government led by Godwin Obaseki provided'.