The Federal High Court sitting in Lokoja, Kogi state has adjourned till May 31st, the ongoing trial of Peoples Democratic Party, PDP, youth leader and a blogger,Comrade Austin Usman Okai to rule on the motion whether the prosecution has the right to amend charges pressed against the accused person.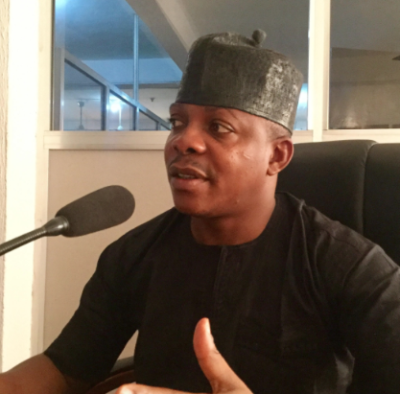 The adjournment was sequel to the arguments canvassed by both parties representing the prosecution as well as the accused person after the motion was served by the prosecuting counsel on the defence counsel,Mr J. S Okutepa SAN.
At the proceeding counsel for the state attempted to file a motion for amendment of charges earlier brought against the accused person, which was opposed by the defence counsel.
In his argument, Mr Okutepa,a Senior Advocate of Nigeria (SAN) argued that the prosecuting counsel has no power to amend a motion without the approval of the court.
"The prosecuting counsel is unqualified to amend charge,section 216 of the administration of Criminal Act stated clearly how a charge can be amended.
"How can a police who is charged with the responsibility of protecting the life and property of citizens turned himself to be a judge,my lordship there's no charges to amend" he submitted.
The defence counsel therefore appealed to the presiding judge to " strike out this worthless paper they titled amended charge "
Earlier Mr okutepa SAN,informed the court that the life of his client is been threatened by the agent of the state.
According to him, the report has become necessary in view of the importance of the life of his client:
"I am reporting to my Lordship that the life of my client is been threatened by some Governor's aides on both their Twitter and Facebook accounts
"We've written a petition to the Inspector General of Police and copied the State Commissioner of police and other relevant security agencies in the state "he explained
He therefore submitted that his client be granted leave not to appear in court physically until trial readily commence; " that for the safety of my client my Lord, my client should be excuse from appearing in court as he cannot face trail after he is killed in view of the life of my client I appeal to my lordship to grant my application " he submitted.
The prosecuting counsel, who objected to the application without quoting authority from the law appealed to the presiding judge to discountenance the application.
The case has been adjourned to the 31st of May 2017 for ruling on the motions.
The court proceeding was witnessed by Mr Okai supporters who turned out as early as 8 am to witnessed the court proceedings which begins at 9.15 am.