By Udeme Akpan, in Vienna, Austria
Crude oil prices have risen from $53 to over $54 per barrel, the highest this year, as a result of speculation over the effectiveness of the Organisation of Petroleum Exporting Countries' OPEC, meeting today.
The survey of the global oil market by Vanguard, yesterday, showed that the prices of some crude oil grades have surged in the market.
For instance, the price of Brent that is usually used to benchmark other prices rose from $53.50 to $54.19 per barrel yesterday.
The prices of others, such as WTI and OPEC basket of 13 crude oil grades, rose from $50.78 and $51.50 to $51.43 and $51.34 respectively.
The OPEC Reference Basket of Crudes (ORB) is made up of the following: Saharan Blend (Algeria), Girassol (Angola), Oriente (Ecuador), Rabi Light (Gabon), Iran Heavy (Islamic Republic of Iran), Basra Light (Iraq), Kuwait Export (Kuwait), Es Sider (Libya), Bonny Light (Nigeria), Qatar Marine (Qatar), Arab Light (Saudi Arabia), Murban (UAE) and Merey (Venezuela).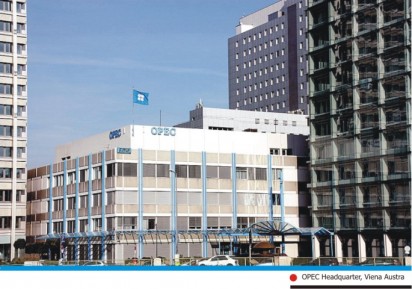 No threat to budget
The Chairman of International Energy Services Limited, Dr Diran Fawibe, said in an interview that at the present price regime, Nigeria should not have much problem in funding its 2017 budget which was based on the reference price of $42.5 per barrel.
Already, the delegates of member nations, including Nigeria, Algeria, Angola, Ecuador, Gabon, Islamic Republic of Iran, Iraq, Kuwait, Libya, Qatar, Saudi Arabia and Venezuela, have arrived Vienna, Austria, for the crucial engagement.
A visit to the Secretariat yesterday showed that unofficial consultations have started, thus raising hope that there would be little or no disagreement when the official meeting, expected to consider whether to prolong the deal reached in December in which OPEC and 11 non-members agreed to cut output by about 1.8 million barrels per day in the first half of 2017 opens on Thursday, this week.
The Minister of State for Petroleum Resources, Dr. Emmanuel Ibe Kachikwu, could not be reached for comments as his telephone was switched off.
Consequently, it could not be confirmed if members of the cartel would likely include Nigeria in its oil production cut policy targeted at reducing supplies in order to stabilise the market.
Delegates arrive Vienna
But a source at OPEC secretariat said many delegates were in support of measures that would culminate in achieving market stability.
According to him, OPEC and non-member oil producers are determined to deepen output cuts or extend them for a year as they seek to eliminate excess supplies from the market.
He said Saudi Arabia favoured extending the output curbs by nine months rather than the initially planned six months, to speed up market rebalancing and prevent crude prices from sliding back below $50 per barrel.
JMMC reports increased compliance
Meanwhile, the Joint OPEC-Non-OPEC Ministerial Monitoring Committee (JMMC) convened in Vienna, Austria, for its third meeting on 24 May 2017 and stated that, based on the Report of the Joint OPEC-Non-OPEC Technical Committee (JTC) for the Month of April 2017, OPEC and participating Non-OPEC producing countries have shown steady and convincing progress towards full conformity with their respective adjustments in production.
OPEC indicated in a statement made available to Vanguard that the JMMC was established, following OPEC's 171st Ministerial Conference Decision of 30 November 2016, and the subsequent Declaration of Cooperation made at the joint OPEC-Non-OPEC Producing Countries' Ministerial Meeting held on 10 December 2016 at which 11 non-OPEC oil producing countries cooperated with the 13 OPEC member countries to accelerate the stabilization of the global oil market through adjustments in oil production of around 1.8 million barrels per day.
It disclosed that the resulting framework, which came into effect on 1 January 2017, was for six months, and was extendable for an additional six months, depending on the status of supply and demand, including global inventories.
The cartel stated that as of April 2017, OPEC and participating non-OPEC producing countries achieved an impressive conformity level of 102 per cent, an increase of 4 percentage points over the March 2017 performance.
Barkindo optimistic
Secretary General of OPEC, Dr. Mohammad Barkindo, had stated that the extensive consultations that began in August 2016 were undertaken with commitment, great diligence and rare courage that facilitated flexibility, accommodation and compromise among the respective parties.
According to him, these eventually led to the landmark decisions taken at the 170th (Extraordinary) Meeting of the OPEC Conference in Algiers, on September 28, 2016, the 171st Ministerial Conference in Vienna on November 30, 2016, and the Declaration of Cooperation between OPEC and non-OPEC producers in Vienna on December 10, 2016.~
He said:  The decisions meant that for the first time in the history of the industry, 13 OPEC nations and 11 non-OPEC participating countries came together as strategic stakeholders, to help rescue and stabilize the global oil industry, one that has been vital to the development of modern civilization.
''The voluntary production adjustments of the 24 producing nations were focused on the urgent need to stimulate the acceleration of the draw-down of the stock overhang, bring the market rebalancing forward and ensure that much needed confidence and investments return to the industry.
''Following these landmark decisions, it was evident that market optimism began to improve. OPEC's watershed decision in Algiers to agree on a production ceiling of 32.5 to 33 mb/d, the first production adjustment since the 'Oran Decision' of 2008, saw an immediate return of positive sentiment, albeit with some cautious optimism. There was a rise in net long-positions and a narrowing of the contango. ''The timely decision in Algiers on 28 September 2016, in the spirit of collectiveness and flexibility, with three Member Countries accorded special circumstances, also extended the hand of unity to non-OPEC producers to broaden the global platform of voluntary production adjustments.''