By Nkiruka Nnorom
Ohanaeze Youth Council, OYC, has condemned the continued incarceration of Dr. Ifeanyi Uba, Managing Director of Capital Oil and Gas Nigeria Limited, by the Department of State Services, DSS, describing it as abuse of democracy and his fundamental human rights.
OYC also noted that the detention amounted to abuse of an on-going court process, and called for his immediate and unconditional release, while charging the DSS to allow the law take its due course.
In a statement by the council's  President-General, Francis Oji and Secretary, Board of Trustees, Mazi Okwu Okwu, the group said it was wrong for the DSS to continue to detain him based on mere allegation of product theft by the Nigerian National Petroleum Corporation, NNPC, and economic sabotage without subjecting him to court trial.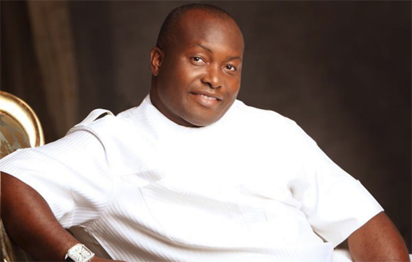 According to them, DSS by its action was already taking sides by either implementing unknown authority's directive or playing obtrusive illegal role not known to Nigerian laws and even the acts establishing the service.
They, therefore, called on Nigerians to raise their voices against the injustice being perpetrated against Uba, saying NNPC cannot be seen to be above the law and illegally shielded to abuse both tenancy and business contracts it entered into with Capital Oil and Gas Nigeria Limited.
"We, Ohanaeze Youths, regret to observe that DSS has openly accused Dr. Ubah of theft and stealthily selling NNPC's oil to the tune of N11billion and economic sabotage and alleging that he was planning to instigate industrial action to disrupt petroleum distribution and circulation around the country. We maintain that DSS is neither known to be debts recovery agency nor court to find Dr. Ubah guilty as accused; whereas, no one is guilty until proven so by a court of competent jurisdiction," OYC said.
"It is laughable to hear DSS said that Dr. Uba, who has demonstrated a great knack of nationalism through his Capital Oil and Gas Nigeria Ltd to save the citizens from hunger and the economy from collapsing is now suddenly alleged to be plotting to disrupt effective distribution of petroleum products across the country and as being unpatriotic and committing economic sabotage
"While we believe that we are still in a democracy where the constitutionally provided fundamental human rights and man's inalienable rights are to be seen respected, we view and assert that Dr. Ubah's ordeals and continuous detention at the hands of the Directorate of the Security Service, DSS, remains gross and flagrant abuse of his fundamental human rights, abuse of ongoing court processes as he already instituted and served DSS, smear on constitutional principles and democratic ideals," they added.