…Frowns at appearance of military lawyers in civil courts
By Joseph Erunke
ABUJA — Chief of Defence Staff, General Gabriel Olonisakin, has blamed inability of the military to provide statutory entitlement to soldiers who either die or are wounded in action on the nation's current constitution, saying the country's existing law never made provision for same.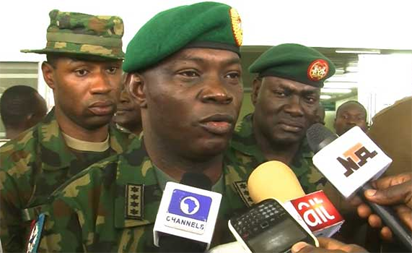 This is even as he expressed grave concern over appearance of military lawyers in civil courts when, according to him, military lawyers  are being restricted to appear only before court martial.
He also frowned on the constitution for allowing non military lawyers take over cases emanating from court martial at the appeal stages when they were not participants at the lower level.
To this end, he has asked that the country's Armed Forces Act, AFA, be amended to capture such provisions.
The military chief equally bemoaned most appellate court decisions against military cases, declaring that reversing rulings of court martial on technical grounds by the higher courts was adversely affecting enforcement of discipline in the military which, he noted, was the cardinal requirement of any military service.
According to him, the provision of statutory entitlements for personnel that either died or got wounded in action would restore hope and dignity to military personnel.
Olonisakin, who spoke yesterday, at a stakeholders meeting on the Review of the Armed Forces Act, organised by the Ministry of Defence, insisted that time was ripe for the review of the Armed Forces Act.
The Chief of Defence Staff also said if the amendment was effected, there would be improvement on alleged human rights violations by the military.
While fully backing imminent amendment of the act, he was emphatic that the development would benefit the military.
In his keynote address,  Minister of Defence, Mansur Muhammad Dan-Ali, said the laws from which the Armed Forces of Nigeria copied its law had undergone several reviews reflective of the ever-changing status of the world.
He stressed that the nation's military's had remained stagnant regardless of the dynamism of change in the society.
In his goodwill message, Chairman, Senate Committee on Navy, Senator Haman Misau, said the National Assembly would support the military in ensuring that the Act was reviewed, adding that they would not support if the Act contravened sections of the constitution of the land.
It would be recalled that the AFA was initially promulgated as a decree in 1993 by the then Federal Military Government, in view of the envisaged transition to democracy that, however, did not take place that year but later became an Act on the restoration of democracy in 1999.
It has been guiding the AFN for 24 years.
Subscribe for latest Videos