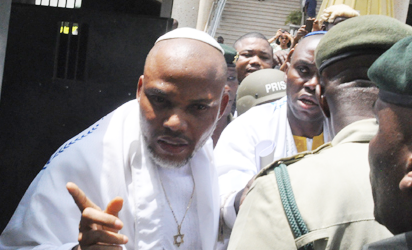 Leader of IPOB, Kanu Nnamidi with his members at Federal High Court Abuja. Photo by Gbemiga Olamikan
Emeka Ephraim Ugwuonye , the lawyer to Mr. Nnamdi Kanu, leader of the Indigenous People of Biafra, IPOB, who recently joined the legal team that sought the release of Mr. Kanu from Kuje prison has been reportedly temporarily barred from legal practice in Nigeria.
The former United States-based Nigerian lawyer, who was disbarred in New York and Maryland for professional misconduct, was yesterday also disbarred in Nigeria, to which he had relocated, for the same offense.
According to a report by Daily Post, Ugwuonye's sanction was ordered by the Nigeria's Legal Practitioners Disciplinary Committee, LPDC, of the Body of Benchers, a unit which punishes misconduct among lawyers.
LPDC ordered Chief Registrar of the Supreme Court of Nigeria to strike out Ugwuonye's name.
J.S. Okutepa (SAN) who is the Chief Prosecutor of the Nigeria Bar Association (NBA) at the LPDC found Ugwuonye liable for fraud and promised to give details of the direction of LPDC in due course.