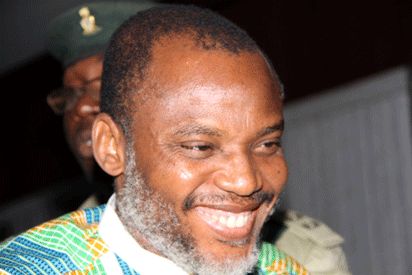 Nnamdi kanu
By Vincent Ujumadu, Anayo Okoli, Nwabueze Okonkwo,Chimaobi Nwaiwu & Ugochukwu Alaribe
UMUAHIA — THE leader of Indigenous People of Biafra, IPOB, Mazi Nnamdi Kanu, has commended the Uchenna Madu-led Movement for the Actualization of Sovereign State of Biafra, MASSOB, for its tenacity and uprightness in the struggle for Biafra.
Kanu, who spoke at his Afara Ukwa Umuahia North country home, Umuahia, when MASSOB leadership under Uchenna Madu visited to rejoice with him over his freedom secured in court, noted that the struggle required sincerity, consistency and selflessness.
He commended MASSOB for working in tandem with the principles and course which IPOB is pursing, namely fighting for the good of the people of Biafra.
Kanu told his visitors that he was not in the struggle to be seen as the number one but believed in the collective effort and struggle for the emancipation of the people of Biafra, saying  he supports all platforms that genuinely pursue the course of Biafra.
He recalled that all of them were in MASSOB for the struggle until their former leader derailed, and commended Uchenna Madu for re-channelling MASSOB to the original cause it was founded for and pledged the continued cooperation and collaboration of the two groups for the good of Biafra.
The IPOB leader jokingly noted that he was lucky not to have stayed as many years in Kuje Prison as Uchenna Madu who spent over five years in various prisons in the course of the struggle.
In his remarks, Madu thanked God for granting Kanu freedom and commended him for his "consistency and selflessness in the struggle."
Madu also lauded him, on the way he pilots the affairs of IPOB and assured him that the synergy between IPOB and MASSOB would continue in the struggle for the emancipation of people of Biafra.
Spirits of  killed IPOB members disturbing us
Meantime, the people of Nkpor Community in Idemili North Local Government Area of Anambra State have cried out over the killing of members of IPOB on May 30, 2016 at Nkpor by soldiers and the police, saying that the spirits of the dead members are  tormenting them.
They said that apart from their spirits tormenting them, the shedding of their blood at Nkpor land had equally brought about untold hardship, strange happenings and horror to the community.
Disclosing this to newsmen at Nkpor, a community leader in the area, Chief Chibuzor Okeke, alleged that the people of Nkpor are not happy that the killing took place on their soil.
He said: "Since after that senseless and unprovoked killing of suspected IPOB members and non members alike in the area, we have never known peace and a lot of strange things have been happening to us here."
He pleaded with the Federal Government to listen to the voice of  reason by releasing all other IPOB members detained along side Kanu without further delay.
Security operatives plan to kill us
In Awka, MASSOB, yesterday, raised an alarm, alleging that it had gathered intelligence reports that security operatives were planning to unleash mayhem on its members on May 30 if they embarked on the commemoration of the fallen Biafran heroes and the 50th anniversary of declaration of Republic of Biafra by the late Dim Chukwuemeka Odumegwu Ojukwu.
MASSOB leader, Comrade Uchenna Madu, said in a statement in Awka that intelligence report by Biafra Intelligence Agency, BIA, showed that the highest command of Nigerian security agencies had given instruction to maim and kill members of the group for exercising their fundamental human rights, including their right to self-determination.
"We are crying out now and calling on the international human rights organisations and the international community to be aware of the plans by the security agents and come to our rescue and possibly stop them from committing acts of genocide against the people of Biafra on  May 30," he said.
He, however, urged members of the group not to be intimidated or discouraged by the antics of external and internal blackmailers and overzealous security agents.
No going back on its sit-at-home directive
In a similar vein, IPOB, yesterday, said there is no going back on its decision to the sit-at-home directive it has given for the celebration of May 30, 2017 Biafra Remembrance Day for Biafran fallen heroes and heroines, saying the day remains a priority for every Biafran.
In a statement by its Media and Publicity Secretary, Mr. Emma Powerful, IPOB said no matter the efforts by  paid saboteurs and threats by the security agents designed to scuttle the sit-at-home, as ordered by their leader, Mr. Nnamdi Kanu, it must be observed by its members and every Biafran.
He said: "We the Indigenous People of Biafra, IPOB, under the leadership of Mazi Nnamdi Kanu, wish to reiterate once again that our May 30 remembrance of our fallen heroes and heroines remains a priority for every Biafran both home and abroad."
Int'l observers to monitor anniversary celebration
Also, yesterday, Biafra Independence Movement, BIM, said international observers from over 20 countries have expressed their desire to monitor the 17th anniversary celebration of the group billed for May 22 to 30.
BIM's National Director of Information, Mr. Sunny Okereafor, who said this in Aba, stated that some of the foreign observers, who he described as friends and partners of MASSOB/BIM, were being attracted by their  non violent policy and would be on ground to monitor the celebrations in any Biafra city of their choice.
He disclosed that some of the observers will be coming from countries such as Gabon, Germany, United States of America,  Netherland, Cuba, Ghana, Benin Republic, Ivory Coast, Tanzania and United Kingdom and urged Biafra people to come out en masse to celebrate the new Biafra from  May 22 to 30.
Asked about the mission of the foreign observers, Okereafor explained that as age-long friends of Biafra, the foreign observers expressed their desire to identify with the people during the celebration, adding that they are billed to commission some completed projects by MASSOB/BIM in Owerri.
"About 20 foreign observers have indicated interest in monitoring Biafra celebrations."
Some of them have arrived. You can see that MASSOB/ BIM's non violent approach has continued to attract foreign countries. From Enugu to Ogoja, Calabar, Agbor,    Uyo, Aba, Onitsha, Abakaliki, Port Harcourt, Asaba and other Biafra cities, there will be massive and peaceful celebrations.
"We are celebrating the new Biafra which was launched on May 22, 200, when our leader, Chief Ralph Uwazuruike hoisted the Biafra flag at 175 Faulks road, Aba. Before that time, nobody dared to mention the word, Biafra. Now, we have achieved independence for Biafra through non violence."
While displaying a copy of the Biafra passport, Okereafor charged Biafra people to make use of the document , stressing that it is valid and accepted by 'countries friendly to Biafra' and urged the people to ignore what he described as the propaganda of the Nigerian government.