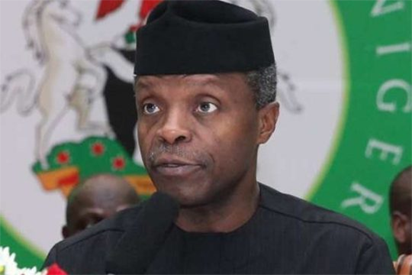 Ag Pres Osinbajo
By Levinus Nwabughiogu
ABUJA-Presidency Tuesday said that there were strong indications that Nigeria was gradually exiting economic recession.
The Special Adviser to the President on Economic Matters, Dr. Adeyemi Dipeolu stated this is in a statement while releasing the The 2017 Q1 GDP figures.
He said that there was a turnaround in the manufacturing and non-oil sectors, adding that there was also an increasing reduction in the sectoral negative growth.
The statement made available to State House correspondents read thus:
"The latest figures released by the National Bureau of Statistics show that the economy shrank by 0.52% in the first quarter of 2017 (Q1 2017).
"Although the economy remains in recession this is the strongest performance in five quarters and shows a significant turnaround from the low of -2.34% reached in the third quarter of 2016 (Q3 2016).
"This is nearly two percentage point improvement and also reflects the fact that the number of sub-sectors that experienced negative growth has almost halved falling from 29 sub-sectors for the whole of 2016 to 16 sub-sectors in Q1 2017.
"Agricultural growth remained in positive territory albeit growing at a slower rate of about 3.4%, no doubt due to seasonal factors.
"Growth in manufacturing on the other hand returned to positive territory after five quarters of negative growth. It grew by 1.36% in Q1 2017 after falling to a nadir of -7.0% in Q1 2016.
"The solid mineral sector continued to justify the priority given to it by the Federal Government with high double digit growth for metal ores and quarrying at 40.79% and 52.54% respectively.
"Growth in the oil sector remained negative at -11.64% although there was an over six percentage point improvement in its fortunes from the previous quarter.
"More significantly, the non-oil sector which accounts for about 90% of GDP returned to positive growth although at a marginal level of 0.72% in Q1 2017. This is the first positive growth in the non-oil sector since the last quarter of 2015.
"Headline inflation fell for the third month in a row to 17.24%, with core inflation also declining quite rapidly.
"However, food inflation remains of concern as it continues to trend upwards. This is mainly due to rising transport costs and other structural impediments to the movement of foods in the domestic market. The trade balance remained positive reflecting import contraction and relatively higher export revenues which grew year-on-year by up to 80.5%.
"The overall picture that the figures show is that the economy is emerging slowly out of recession.
"This outlook is reinforced by positive trends in other indicators such as improved oil prices and increasing production, rising foreign exchange reserves, increased capital spending by the Federal Government as well as improved perceptions reflected in various purchasing and sales managers indices.
"Barring major economic shocks, it should still be possible to restore growth this year as projected in the Economic Recovery and Growth Plan."