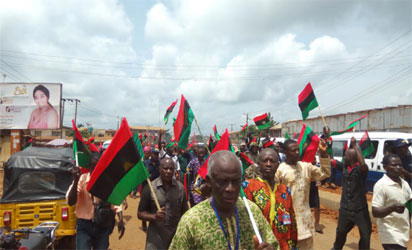 Biafra anniversary parade celebration along Opi-Nsukka Road, Enugu State, yesterday. Photo:: Kelechukwu Iruoma.
By Chinedu Adonu
ENUGU-IN total compliance to the sit-at-home order issued by the Indigenous People of Biafra (IPOB) and other Pro-Biafra groups in the Southeast, economic and social activities in Enugu state have been paralyzed as the State observed the order
Vanguard reporter who went round the state to monitor and observe the sit at home gathered that the Major Markets, Banks, Parks, Schools in Enugu metropolis were deserted quiet and abandoned.
,Ogbete main market, New market, Kenyeta market, Gariki were deserted. some Schools like Government Secondary School, Army day Secondary School,Parks like Onitsha South mass transit, GOU, Young, Ifesinachi, Royal mass transit and some Banks visited were deserted.
At Okpara Avenue, New Layout, Ogbete market, Agbani, Abakpa and other major towns and areas in the state, everywhere looked deserted, as people were scantly seen moving in pairs while commercial buses and tricycle riders were seen shouting on top of their voices trying to attract commuters who were no where in sight.
A visit to the popular Ogbete market revealed that although the entrance to the market was open, stalls were locked and a few traders seen moving about with no intention of embarking on any trading activity.
Traders who were interviewed said they were only out to witness the level of obedience to the call by IPOB. They were of the opinion that the response was an indication of oneness among the Igbos who according to them are fed up with marginalization.
"we stand together forever. This is to show that the things that divided us are behind us now. For any ignoring man to close his shop for any course is a sign of seriousness and determination", one of the traders who did not want his name in print noted.
Other markets in the metropolis that were affected include, Aria market, Kenyatta market, Artisan market, Garki and Akwata market.
In the same vein, academic activities at public and private schools in the metropolis were affected as no student was seen in schools visited. Some of the schools are Government secondary school, Enugu, Army Day Secondary school, Enugu, and Enugu State College of Education [technical], Enugu.
Speaking to Vanguard, the principal of GTC, Enugu Mr Kenneth Ogiri stated that the sit at home order affected students and some staff who were not able to get to the school because there were no public transport.
"Our teachers came late because they did not see transport to the school. Some students also complained of the same thing, so I will say that the order affected the school patially".
It was also discovered that Diamond Bank, Agbani road, and First Bank, Agbani road were closed entirely. While some other banks opened with a few customers being attended to.
Youths were playing football along Oraifite street Edinburgh and many others in Enugu.