By Olasunkanmi Akoni
THE Committee of Wives  of Lagos State Officials (COWSLO) orgainsed a symposium themed; "The Contribution of Women to the Development of Lagos State in the past 50 years as part of activities marking Lagos at 50, held in Ikeja Lagos on Thursday 18th May, 2017.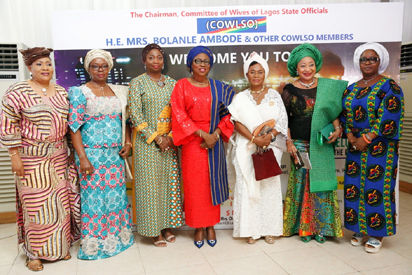 The event had in attendance; COWLSO grand Patron, Senator Oluremi Tinubu, COWLSO chairperson, Wife of the Lagos State Governor, Mrs. Bolanle Ambode, Deputy Governor of Lagos State, Dr. Idiat Adebule, and President of the Lagos State Chamber of Commerce and Industry, Mrs. Nike Akande, Special Adviser to President Muhammed Buhari in Diaspora Matters, Hon Abike Dabiri-Erewa, All Progressives Congress, APC, Leader Chief Kemi Nelson, among others.
The speakers in their papers delivered on various topics, expressed strong support for equality among men and women as well as girl child education in the interest of nation building.
In her address Ambode, noted, "I am at loss as to where to start. Should it be from trade and entrepreneurship, public service, academia or politics? Honestly, women have contributed in practically all fields to make Lagos State what it is today.
"Women of Lagos State, it is time to beat our chests, congratulate ourselves on various achievements, and draw new strategies for more contributions to take our state to the next level."
Adebule, in her address, also noted that the 50th anniversary of the state presents an avenue for women to take stock and challenge themselves to do more especially by supporting programmes and policies of government geared towards further developing the state.
"The state government on its part will not relent but continue to provide the necessary opportunities so that more of our women can be actively involved in the process of governance, politics and decision making.
"We will also ensure that women's interest, welfare and safety are guaranteed and given top priority," she said.
Highlights of the paper were delivered by Sen. Tinubu, who spoke eloquently on female gender. "It is indeed a privilege to speak at this special occasion in commemoration of Lagos State after fifty years of outstanding achievements and progress. It is also gratifying to note that the work of our leaders past has not been in vain. For Lagos, this celebration is fitting and germane; and the reasons numerous. Lagos State has proven over the years to indeed be Nigeria's Centre of Excellence by recognizing its blessings and managing them efficiently.
Politically and economically, it has proven to be the focal point of the country with other States admitting to have at various points, attempted to imitate the Lagos model and blueprint. Continuity of leadership and purpose is a phrase that finds home in Lagos and each time the Federal Government wishes to get it right, it relies on the ideas, support and manpower from Lagos.
Only recently at the 65th birthday Colloquium of His Excellency, Asiwaju Bola Tinubu, former Governor of Lagos State, the Honourable Minister of Finance, Mrs Kemi Adeosun admitted that "The economic template we copied from Lagos is now being implemented for the economic recovery of the country and we are not ashamed to say it." Welcome to our Lagos, Nigeria and West Africa's commercial, creative and technology hub.
However, it is impossible to speak of the giant strides and greatness story of Lagos without mentioning her capable and visionary leaders, particularly since the inception of Nigerian democracy in 1999. The celebration of Lagos at 50 is a celebration of her people –the men and women who have contributed to making Lagos the embodiment of good governance and the epicenter of development. Thus, it is my delight to be surrounded by so many accomplished women who are pivotal in supporting Lagos State Officials or directly serving our dear State. As we gather today, I wish to encourage you with the example of women who have made amazing contributions to the development of Lagos State in the last fifty years. Without a doubt, the history of Lagos State in last fifty years cannot be comprehensively written without devoting a significant portion of such account to the sterling contributions of these outstanding women.
Gloria Vanderbilt, American author, actress and fashion designer once said "I always believed that one woman's success can help another woman's success." I believe this.
In a world where women are clamoring for equal opportunities and a chance to prove themselves, these women have contributed their quota.
We have women who have represented us and continue to be outstanding in their representation of Lagos State in the Federal Legislative houses in Abuja. Among them is Honourable Abike Dabiri-Erewa who, even before she served as a legislator, was already doing us proud as an excellent broadcaster. We are also encouraged by the Hon. Olajumoke Okoya-Thomas, Hon. Lola Akande who is the current Commissioner of Women Affairs and Poverty Alleviation for Lagos State. Of course, you are aware that yours truly has also had the honour and privilege to represent the good people of Lagos Central Senatorial District since 2011.
Let us also celebrate and be challenged by the service of women who have done us proud as judges in Lagos State. A look at our judiciary today reveals women are highly respected for their knowledge, legal skills and judicial acumen who are involved in the administration of justice. Lagos State has had three consecutive female Chief judges in the persons of Justice Inumidun Akande, Justice Ayotunde Philips and Justice Olufunmilayo Atilade, the current Chief Judge for the state. Other notable women who have held the office of the Chief Judge in Lagos State include Justice Roseline Omotosho and Ibitola Sotuminu.
Indeed, we have so much to be proud of. If we were to make a list of women who have served as commissioner, heads of departments, agencies and parastatals and Special Advisers, we will have a list that is inordinately long. A list of current and former Heads of Service for the state featured women like Adefemi Taire, Folashade Adesoye, Olabode Ademola, Josephine Williams and Folashade Jaji.
In the same vein, a significant proportion of middle level and senior level offices of the civil service are occupied by women who unquestionably qualify for these offices.
The countless number of women who are contributing to their family income or solely responsible for their family's upkeep cannot be left out. In my position as the senator representing the Lagos Central Senatorial District, I have come across many of these women, and they deserve our respect.
Notwithstanding the progress we have made in Lagos State, we still have a large number of our women without access to advanced education and there are women desperately in need of support to lift them out of poverty and degrading relationships. We must intensify our advocacy work and device a holistic strategy to equip women to become even more relevant to the progress of the country.
The challenges confronting us in the task of equipping our women for future contribution to our society include the cultural challenges, socio-economic inequalities, institutionalization of patriarchy, and the absence of robust and reliable support groups. I am confident, however, that these challenges are not insurmountable if we all work together.
We must continue to prioritize education, to continuously advocate for the education of the girl-child and for the access of the already-schooled to advanced education. Many people know about my passion for education. We must heavily and consistently invest in schooling and advanced education for our girls and young women.
The establishment of support groups is also very critical to ensuring continued relevance of women to the development efforts in Lagos State. We read and hear of women not being supportive of other women; and of women pulling down other women. This is not healthy for our society and for the cause of women emancipation in particular. I urge you all to resolve to be the promoter of the other woman's interest. Each woman should be the active advocate for the other woman's promotion.
If we do not promote our own, who will? If we do not advocate for our own interest, who will? In the words of Argentine-American author, Mariella Dabbah, "Women who support other women are confident, generous and visionaries." Similarly, and perhaps, humorously and candidly, Madeline Albright, former United States Secretary of State once famously said: "There is a special place in hell for women who do not help other women."
Also, it is not enough for us to excel in our fields and endeavours, we must pour into and mentor young women. By doing this, we will be ensuring that the baton of excellence is passed on to a generation of women who understand the purpose and are ready to run with the vision.
To the next generation of women leaders, we ask you to inspire others in order to attain heights that are higher and loftier than ours. In the words of Hilary Clinton, I say, "To all the little girls who are watching, never doubt that you are valuable and powerful and deserving of every chance and opportunity in the world to pursue and achieve your own dreams."