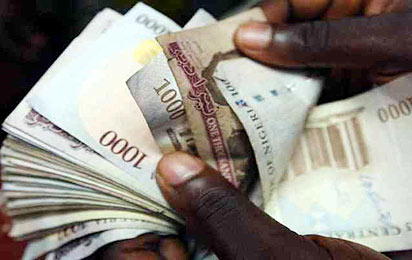 Naira
A civil servant in Kogi, Mrs Husseina  Mohammed has returned the sum N1, 780,500 paid in excess of her March salary to the coffers of the state government.
Mohammed said this on Friday in Lokoja while on a courtesy visit to the Director – General, Bureau of Information and Grassrrots Mobilisation, Alhaji Abdulkareem Abdulamlik .
She said that she received an alert from her bank in the afternoon of May 21 and discovered that a huge sum had been credited in her favour.
Mohammed said that she immediately called the attention of her husband to the development and a decision was taken to return the money to the coffers of the government.
The civil servant, who works at the state Teaching Service Commission, said she started the process of returning the money back to government on May 22, saying that the money was paid into the government account with the Lokoja branch of the Zenith Bank Plc.
She then handed over the bank teller and other documents used in paying back the money into the government bank account to the Director General
Mohammed praised Gov. Yahaya Bello for paying her salary up till March, 2017, saying that she was not in any way affected by just concluded staff screening and verification exercise.
She, however, pleaded with the state government to reciprocate her good gesture by paying the outstanding 15 month salary arrears of her husband, Mr Yakubu Mohammed.
The civil servant said that the salary of her husband was being withheld for the discrepancy in his age declaration, saying that the discrepancy had since been rectified.
In his response, the Director- General commended Mohammed for her honesty.
He said with people like her in the society, Nigeria was sure of winning the ongoing war against corruption.
The Director -General urged other civil servants and residents of the state to emulate Mrs. Mohammed.
He said that her good conduct would not go unrewarded, adding that her exemplary conduct would be recorded for generation yet unborn to learn and emulate.
Abdulmalik also reiterated the resolve of Gov. Yahaya Bello to carry the restructuring of the state civil service to the end.