By Abdulwahab Abdulah and Jane Echewodo
The founder, Chief Eecutive Officer of Arkleel Oil and Gas, Dr Gregory Ero, yesterday told  an Ikeja High Court how embattled Federal High Court Judge, Justice Rita Ofili Ajumogobia stopped picking his calls after she borrowed N18 million from him to buy a property in the UK.
The witness  claimed  before Justice Hakeem Oshodi that Ajumogobia promised to repay the money after sometime, but failed and even stopped picking his calls.
Ero, was the ninth prosecution witness for the Economic and Financial Crimes Commission in the ongoing bribery and corruption trial of Ajumogobia and a Senior Advocate of Nigeria, Godwin Obla.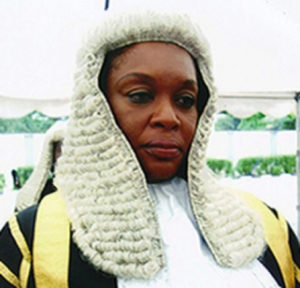 According to the witness: "I knew Ajumogobia sometimes in 2002 before she became a Federal High Court Judge. She was employed when we outsourced for a secretary. She was paid ad hoc fees  as we did not have a regular structure as at then. She worked with us for two years before she was appointed as a Judge.
"She came to our office a day after she stopped working with us and sought to have a private audience with me. I obliged and she asked for a loan of N18 million because she had pressing needs.
" I enquired what the urgency was about and Ajumogobia informed me that she had a shortfall of N18m for a property she wanted to buy in the UK as she needed to move out of the family house immediately.
"As a Christian,and also based on the fact that she is known to me, I obliged her request. She further told me that she has properties which would generate rent while also giving me a payment plan for the repayment of the loan.
"Sadly after a year she did not pay back. I started calling her and she picked  my call. But between 2012 and 2013 she stopped picking my calls.
"I personally went to her house but I was turned back at the gate when I was informed that she was not around. I went to her house more than 20 times but I was always turned back at the gate.
"I am disappointed in Ajumogobia as I find her action bizarre. Up till now, she has refused to pay me my money. I still need my money as the money was taken from our retail earnings. I have not written it off, I still need my money," he said.
Another witness, a Deputy Comptroller General of Customs, Tahir Audu Musa also informed the court that the Comptroller General of Customs Abdullai Dikko Inde gave him a piece of paper which contained the name, Nigel and Colive, a company owned by Ajumogobia.
He said, "The DG sometimes in 2014 called me back and gave me the name of the company directing me to tell one Musa Omale to liaise with some area comptrollers and transfer 1 million each to Omale's account for onward transfer to the company's account.
"The Customs Commands mentioned are: Apapa, Tincan Island, Kirikiri Landing Terminal, Murtala Mohammed, Federal and Sea, Onne Air and Ogun State Command", Tahir said.
However,  Musa said that he did not know why the money was paid into Nigel and Colive's account.
During the proceedings, Obla's counsel Ferdinand Oby SAN told  the court of his decision to withdraw two earlier applications seeking severance and separate trial by his client.
Oby also informed the court of an application seeking the release of his client's international passport to enable him travel to Houston, Texas for medical purposes.
Ajumogobia's counsel, Olawale Akoni SAN also applied for a 30 day medical leave for his client, on grounds of ill health.
Meanwhile, the EFCC prosecutor, Rotimi Oyedepo  objected to Ajumogobia's application on the grounds that it was a ploy by the defense to stall the trial.
After listening to all the arguments Justice Oshodi adjourned the matter till June 1 to rule on the applications.
Ajumogobia was accused by the EFCC of receiving a total of $793, 800 in several tranches from different sources between 2012 and 2015.
The judge was further accused of giving false information to EFCC operatives by claiming to be on admission in Lagos which was found out to be false, an offence contrary to section 39 (2)a of the EFCC Establishment Act.