By Gabriel Ewepu
ABUJA- THE inclusion of Orange Flesh Sweet Potato, OFSP, in school meals has appreciably boosted children's nutrition status for growth and development, which was developed by the International Potato Centre, CIP.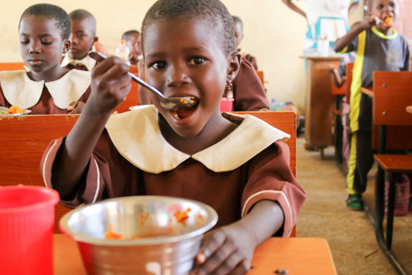 This was disclosed by Project Manager, CIP, Dr. Erna Abidin, who said the results from a number of researches conducted indicated one small-to-medium boiled root of OFSP varieties that could supply daily recommended amounts of Vitamin A for young children and breast feeding babies.
The OFSP varieties are rich in Vitamin A, a critical vitamin that has been deficient in most diets in sub Saharan Africa, and remains a serious public health problem in Ghana, Nigeria, and Burkina Faso in West Africa.
According to CIP in Nigeria, one in three children suffer from Vitamin A deficiency (VAD), which can lead to blindness and even death.
Abidin said: "Results from a number of researches has revealed that one small-to-medium boiled root (approximately 125g or 1D 2 to 1 cup) of most OFSP varieties can supply the recommended daily amount of vitamin A for young children and non-breastfeeding women.
"In the last three years, CIP has pioneered a three-year project in Osun and Kwara States of Nigeria. In Osun State, the project intervention entails inclusion of OFSP in school meals as part of efforts to improve the nutrition of children."
The Bill & Melinda Gates Foundation have been funding the project for children to have access to good nutrition. It has also trained some bakers on 40 percent inclusion of OFSP puree (steamed OFSP) in wheat bread, which they supply to schools and also to increase their financial base.
According to one of the beneficiaries, Mr Fatai Ganiyu, the inclusion of OFSP in bread will add value to the nutritional and health needs of the children and improve the economy if more bakers adopt the technology and it would lead to reduction on wheat importation, will save the country from spending its foreign exchange on importation, which will also create jobs for the people and boost nutrition across the country.
"At the moment, I can't meet the demand for OFSP-wheat bread. I supply the OFSP composite bread to 20 schools; part of the Oriade local government elementary schools, and the children like the bread", he said.