By Ikechukwu Nnochiri
ABUJA— Justice Sylvester Ngwuta of the Supreme Court, who is facing money laundering charge, preferred against him by the Federal Government, has maintained his innocence, saying he was ready and anxious to defend himself.
Ngwuta, who is facing an amended 13-count charge, said the level he had attained in the judiciary made it imperative for him to establish his innocence on the merit of his defence.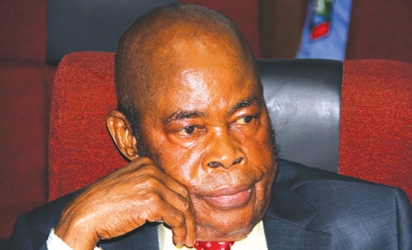 Ngwuta was among seven superior court judges that were arrested after a "sting operation" the Department of State Service, DSS, conducted between October 7 and 8, 2016.
The continuation of the trial was stalled, yesterday, owing to failure by the Federal Government to produce some exhibits it said would nail the defendant.
At the resumed sitting, the prosecution counsel, Mrs. Olufemi Fatunde, applied for an adjournment to enable the Federal Government tender the exhibits through the fifth witness, Mr. John Utazi.
The PW-5 is an operative of the DSS. He was among the team that conducted the search operation that allegedly led to the recovery of "bags of local and foreign currencies" from the official residence of the defendant.
However, Mrs. Fatunde pleaded with the court for another date due to unavailability of the exhibits being expected.
In his reaction, the defence counsel, Chief Kanu Agabi, SAN, said it was regrettable that speedy hearing of the case was being stalled by the prosecution.
Due to the development, Justice J. Tsoho deferred the trial till May 25 and 26.