Former Attorney-General of the Federation and Minister of Justice, Mohammed Adoke, expressed fears, yesterday, that many homes would be invaded by hoodlums pretending to be security operatives, if the whistleblowing policy of the Federal Government was not properly monitored.
His statement came against the backdrop of last month's invasion of his Kano home by operatives of Economic and Financial Crimes Commission, EFCC, in search of documents believed to be incriminating as well as invasion of the home of his younger brother, Bashir Adoke, by gunmen in Kogi.
Adoke said it appeared there was no end to the level of harassment he and his family "will face in the hands of law enforcement personnel determined to unearth incriminating evidence against him."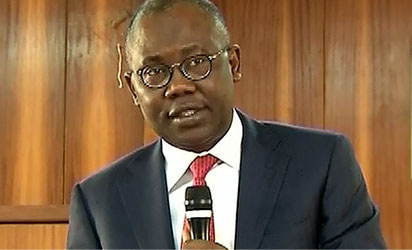 He reiterated that there were aggrieved individuals bent on settling scores with him because he did not serve their interest while in office.
The statement read:  "Only last night, the Okene residence of Mr. Bashir Bello, a younger brother to the former attorney-general of the federation and minister of justice was raided by men who claimed to be law enforcement personnel.
"The men who arrived Mr. Bello's house at about 12-midnight in a Hilux van were dressed in black uniform. They did not present any search warrant and when the security man sought to know their mission, they stated that they were in search of money, particularly dollars, that have been hidden by Mohammed Bello Adoke.
"When the security insisted that the house was not occupied and that no such monies were kept there; they not only brutalised him, but proceeded to hack down the door, tore the place apart and searched virtually every nook and cranny of the house, destroying the furniture, the ceiling, wardrobes, water tank, etc. At the end, they left the premises infuriated that they did not find the dollars they were informed was hidden in the house."
"Although, the matter has been reported to the Police, there is palpable fear that if not properly monitored, the whistle-blower policy of the government can be hijacked by hoodlums masquerading as security personnel to invade the homes of unsuspecting members of the public.
"Mr Mohammed Adoke is apprehensive about his personal safety as well as that of his immediate family and calls on law enforcement personnel to guarantee the safety of his family, especially now that he has become a target and subject of harassment, intimidation and persecution from powerful families and aggrieved individual bent on settling scores with him on account of his refusal to allow his office as a minister in the government of the federation to be used to serve their personal interests."