Since highly rated comedian I Go Dye unveiled the house he built for his mum last Sunday, curiosity has been set adrift in many quarters, with tongues wagging on the possible estimation of the value of the palatial edifice. The Golden Eyes castle is situated at Amb. Francis Agoda Virgin Island,while the almost completed Royal Golden seal is seated at Amb Francis Agoda sugar land, both castles  have attracted many viewers who are fascinated by its uniqueness.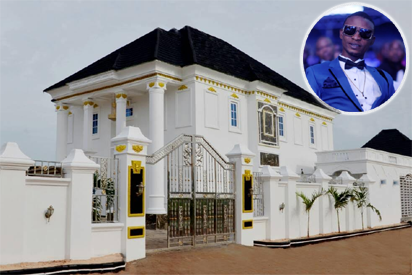 However, Potpourri's investigation has revealed just how much the mansions must have cost the comedian. According to an architect/ estate developer Wale Balogun ''one cannot presume knowledge of accurate sight alone' but from the structural design and fortification of the castle in question here, both properties will be estimated to the tune of 5.4 million dollars."
Potpourri further learnt that both castles were contracted to a French company Monreve, which handled all the sculptural and concrete enforcement while Revamp Construction Company owned by the comedian,handled  the building  of the castfles.
"The Golden Eyes which was presented to his mum last Sunday has a unique customized golden sculptured face moulded in the image of his grand mum, Queen Agnes  who nurtured him as a young kid,"  Lilian Akpomene a close friend to the comedian told Potpourri
"Indeed this edifice has a monumental standard, which  will out live  contemporary designs of today and a long time to come. If the essence of a home is just to sleep, I guess a home structurally built as a castle, as a gift to express gratitude for love, is really meant to reflect the true value of what mothers mean to the world," she added.