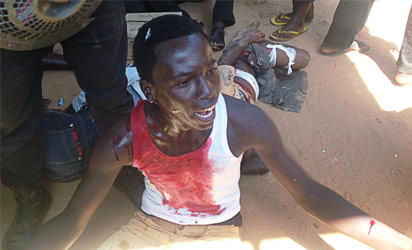 An injured shiite member sits on the ground after a suicide blast in the northeast Nigerian town of Potiskum on November 3, 2014. At least 15 people were killed and over 50 injured when a suicide bomber detonated explosives at at a ceremony marking Ashura, the annual commemoration of the killing of Husseyn, the grandson of Prophet Mohammed. Six other people were killed when soldiers opend fire on the mourners fleeing the scene, according to a shiite cleric and witnesses. AFP PHOTO
Three female suicide bombers have attacked a herding community in northeast Nigeria, killing two people and injuring seven others, according to a village elder and a civilian militia member.
Ali Musa said the trio, believed to have been sent by Boko Haram jihadists, struck at Shuwari Buri village, 38 kilometres from Maiduguri at around 9:20 pm (2020 GMT) on Monday.
"Two of them rushed into a thatched hut and detonated their explosives, killing two brothers who had retired for the night," he added.
"The third bomber detonated her explosives among residents who had gathered … injuring seven."
The three bombers had earlier told villagers they were travellers and asked them for accommodation for the night. But they were refused on security grounds.
Ibrahim Liman, a member of the civilian militia assisting the military with security, gave an identical account.
Shuwari Buri is in the Konduga area, some 40 kilometres (25 miles) southeast of the Borno state capital, Maiduguri, which has been repeatedly hit by suicide bombings and gun attacks.
Boko Haram has increasingly used suicide bombers to attack civilian targets including mosques, schools, markets and bus stations.
Many of the bombers have been women and young girls.
The phenomenon has increased as the Islamist militants lost captured territory to the military due to a sustained counter-insurgency that began in early 2015.
The rebels' push for a hardline Islamic state in the region has left at least 20,000 people dead in Nigeria alone and displaced more than 2.6 million others.
Civilians are still facing the fall-out from the conflict: 5.1 million people are severely food insecure and dependent on handouts from aid agencies.