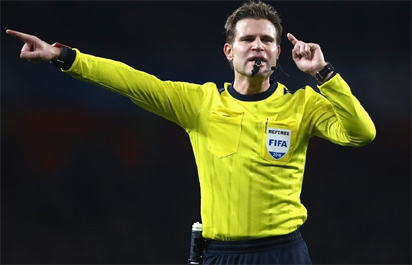 Brych
German Felix Brych has been appointed referee for next month's UEFA Champions League final between Juventus and Real Madrid at the National Stadium of Wales in Cardiff on Saturday 3 June.
Brych, who has been an international match official since 2007, has taken charge of five UEFA Champions League fixtures this season – including the round of 16 first leg between Porto and Juve – as well as the UEFA Europa League quarter-final first leg between Anderlecht and Manchester United.
Read Also: All you need to know about Ajax v Man United
The 41-year-old was part of last summer's UEFA EURO 2016 refereeing team. He was the man in the middle for the Sweden-Belgium and England-Wales group stage games as well as the quarter-final between Poland and Portugal.
Brych was also the referee for the 2014 UEFA Europa League final between Sevilla and Benfica in Turin.
Referee: Felix Brych (GER)
Assistants: Mark Borsch, Stefan Lupp (both GER)
Fourth official: Milorad Mažić (SRB)
Additional assistants: Bastian Dankert, Marco Fritz (both GER)
Reserve assistant referee: Rafael Foltyn (GER)