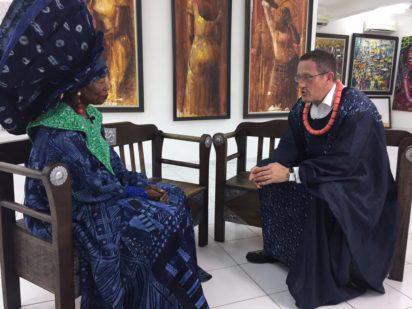 Richard Quest in Lagos
By Emeka Anaeto
LAGOS— THE United States of America-based broadcast journalist, Richard Quest of CNN, has identified good governance and purposeful leadership as key in turning Nigeria's abundant human and material resources into real economic development.
In an interactive session with some Nigerian financial journalists, last weekend, in Lagos, Quest also said both elements had been lacking in Nigeria for too long, thus making development difficult to achieve, despite the huge potentials.
Though he alluded to corruption as the key factor that had undermined development, Quest claimed his interactions with Nigerians across all segments showed that while he had been criticized for using the word, corruption, on Nigeria, he actually heard it more from Nigerians.
His words: "This is not me saying it, it is basically what I hear from most people here when I put the question to them, what is the biggest challenge facing the country. Almost everyone tells me it is corruption.
"Though I get much criticized for mentioning the 'C' (corruption) word here, it is not actually me saying it, I am hearing it from practically every person I have met here, when I ask what is the greatest problem of the country now."
Quest, who raised the issue of Osborn house cash find amounting to over USD43 million, stated that the incidence hugely scandalized Nigeria in the international community. He wondered if any serious prosecution and punishment would come to anyone over the scandal, adding that the matter might go under the carpet, with a new scandal overshadowing it.
He added: "This is where leadership and good governance come into play to decide and ensure right things are done."
At this point, Quest noted that it took good and honest people looking the other way when these things happen for it to continue and thrive.
He, therefore, urged the media to be active and to continue to report bad leadership and governance, even at the risk of the safety of their jobs.
He stated: "Our job in the media is not to solve these problems, but to continue to put them in the front burner until something is done."
Quest expressed scepticism when one of the journalists said the government would likely do justice and punish anyone found culpable in the Osborn incident since it bordered on the integrity of the current regime.
He, however, noted that if nothing happened to those involved, a much worse corruption would become prevalent.
Quest, who concluded his visit to Nigeria  on Saturday, expressed optimism that Nigeria would succeed after all the challenges.
He also noted that he had met a lot of young and enterprising Nigerians who were succeeding in spite of the government and adverse situation.
"I am absolutely optimistic about Nigeria, I am not leaving here pessimistic. There are people I have met out there, the young people who are enterprising, inspired and focused,'' he said.