By Chioma Obinna & Gabriel Olawale
The United Nations Children's Fund, UNICEF and United Nations Population Fund, UNFPA has expressed readiness to provide comprehensive psychosocial support and other specialized services needed to 82 Chibok girls newly released by Boko Haram group.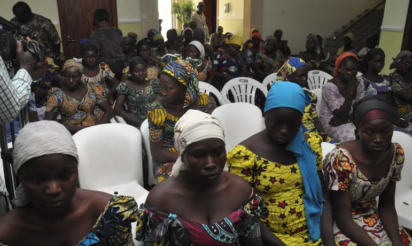 The two United Nation organisations said they are on standby to support the Nigerian authorities to provide emergency reproductive healthcare, psychosocial counselling and other critical support to the survivors.
UNICEF described the released of the girls as heartening even as it lamented that the girls will face a long difficult process to rebuild their lives after the indescribable horror and trauma they suffered.
In a press statement, the Acting Representative of UNICEF Nigeria, Pernille Ironside said "UNICEF is on standby to support the Nigerian authorities to provide the comprehensive psychosocial support and other specialized services needed.
"We will help reunite the girls with their families and make sure they can continue their education in a safe environment.
Ironside called on Boko Haram to end all grave violations against children, especially the abduction of children and the sexual abuse and forced marriage of girls.
"We commend the government for this important achievement in helping to protect children impacted by the conflict in northeast Nigeria but remain deeply concerned for the thousands of women and children still held in captivity by Boko Haram. Greater efforts must be made to bring them all to safety and home to their families.
In a separate statement, UNFPA disclosed that in partnership with the Federal Ministry of Women Affairs and Social Development, they will continue to support women and girls who are survivors of sexual and gender-based violence. For the newly rescued Chibok girls, an emergency team of psychosocial counsellors and health professional shave been deployed to assist with the profiling of the girls, so their critical needs can be met.
"Dignity kits, consisting of culturally appropriate attire and intimate hygiene supplies, have been procured and will be distributed to help restore the dignity of the girls. The newly-released girls will also be part of a similar rehabilitation programme that was set-up for the 21 Chibok girls who were released in October 2016.
"The programme is tailor-made to meet each girl's specific needs of counselling, to help overcome the trauma endured after being held under captivity for more than three years. The programme includes among others; access to quality education to bridge the learning gap created during the abduction, access to reproductive healthcare for their sexual well-being and rehabilitation support, and a skills-acquisition programme to ease their re-integration into their society.
"Since the insurgency in the North-East of Nigeria,6 in 10 girls are reported to have experienced a form of gender-based violence (GBV) and many have limited access to sexual and reproductive healthcare. UNFPA and partners have provided direct prevention and response services to 200,000 women and girl survivors or at risk of GBV through its 'safe spaces' and community outreach. More than 3.5 million survivors have been provided with sexual and reproductive health care services, psychosocial support and counselling.