Senate President, Dr. Bukola Saraki, yesterday, blamed his colleagues in All Progressives Congress, APC, for the emergence of Ike Ekweremadu as his deputy, despite being a member of the opposition Peoples Democratic Party, PDP.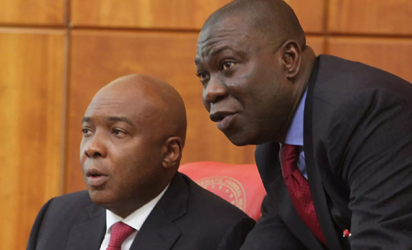 He also denied going into an alliance with the PDP to become Senate President.
Reacting to a Twitter user's accusation that his action truncated APC's mandate, Saraki said: "I did not do any deal with PDP. I did not have to because even before they took a group decision, 22 of them already endorsed me."
Saraki said he never thought APC lawmakers would absent themselves from the proceedings.
The Senate President noted: "I didn't envisage that some APC members will be absent from the Senate, especially when the clerk already received a proclamation from President.
"If a team refused to turn up for a scheduled match and was consequently walked over, would it be fair to blame the team that turned up?
"Those that made it possible for PDP to claim the Deputy Senate President position were those who decided to hold a meeting when senators ought to be in the chambers."