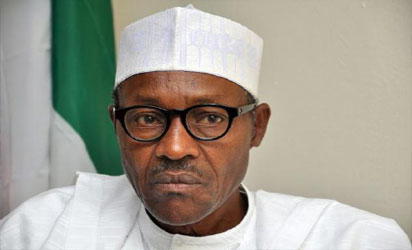 President Muhammadu Buhari
By Simon Ebegbulem
BENIN—FORMER Provost Marshal of the Nigerian Army, Brigadier-.General Idada Ikpomnwen, has said for the war against corruption to be more effective, the Federal Government must come up with legislation that will prescribe severe punishment to public fund looters including those in the National Assembly.
Ikpomnwen, who was reacting to a statement credited to Senate President, Bukola Saraki, that President Muhammadu Buhari's war against corruption was a circus show, agreed that if actually the war "has a bite, the issue of improper declaration of assets, forgery of Senate rules, padding of the appropriation bills ought to have been more seriously addressed to the extent that some senators ought to be in jail by now. I believe that to some extent, what the President of the senate is saying has some weight.
But let us even look at it in the Senate. If the fight against corruption was biting as planned by President Buhari, even the Senate leadership today needed to have been affected. But it is a good thing it has started, this is the first time Nigerians have seen corruption being fought by government.
"So many people are in the process of being dealt with.
But a lot of people feel it is not holistic enough, that it is directed only towards opponents. But I believe that some of the loopholes being observed are because the man who was voted into office has not been enjoying the best state of health.
I believe they are measures to be taken to make this battle more effective. For example, putting square pegs in square holes.
I am saying this because I know that the President alone cannot do anything unless he has the right people in the right places."
And the president himself can even go to sleep if the right people are in-charge of the war".