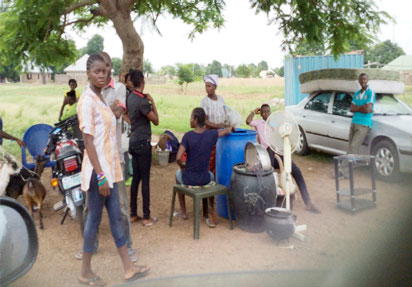 Persons internally displaced by the clash
By Peter Duru
MAKURDI—THREE persons were reportedly killed and over 150 houses razed, following a clash between Tiv and Jukun at Fiidi, Airport community, in Makurdi Local Government Area of Benue State, following an argument that started at a drinking joint.
However, police, yesterday, said only one person died and 20 houses burnt down.
The crisis has created a huge refugee situation in and around the state capital, with several families, including women and children, fleeing the crisis area.
Majority of them were seen trekking several kilometres to the city centre.
Though there had been several tales as to the reason for the mayhem, Vanguard gathered that the crisis, which started Monday evening, may have been triggered by disagreements between youths of both tribes at a drinking bar in the area.
Survivor's story
A father of three, who lost his house and other belongings in the crisis, said it was difficult to clearly state the reason for the crisis.
According to him, "all I can say is that it all started Monday evening, when we started hearing that youth of the two tribes, Tiv and Jukun, who dominate Fidi Ward, were having disagreements at a drinking bar in the market.
"Others said it was as a result of disagreement in a market place, where a Tiv trader was beaten to pulp by Jukun youths. Nobody can tell, but the truth of the matter is that three persons have been killed, well over 150 houses and properties razed in the last 24 hours in Fidi community.
"We fear that the crisis may spread to Wurukum and Wadata areas of the town, where we have high population of Jukuns in the state capital."
Gov Ortom reacts
Reacting, Governor Samuel Ortom, who led members of the State Executive and Security Councils to the community, where many houses were still in flames at the time of the visit, lamented the devastation, describing it as unwarranted and an act of stupidity.
Governor Ortom said: "I wonder why an argument in a drinking bar could degenerate to a bloody clash resulting in this kind of destruction.
"We have directed the police to beef up security here and also fish out the masterminds of the crisis."
Police story
The state Police Commissioner, Bashir Makama, on his part, said one death had been recorded by the Command, while 17 persons had been arrested over the incident.