New Bafana Bafana coach, Stuart Baxter has told his players that they should not feel inferior when they confront the Super Eagles in next month';s AFCON 2019 qualifier in Uyo.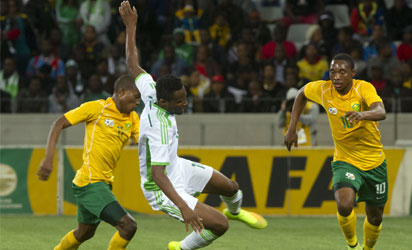 Baxte, who was named Bafana Bafana's new coach on Thursday by the South African Football Association, expressed optimism that his side will coast to a victory against their more illustrious foes on June 20.
Baxter  holds the enviable record of being the only coach to have led South Africa to victory  over Nigeria, and is keen to continue the winning run in Uyo next month.
It is recalled that on November 17, 2004, Baxter was coach when Bafana Bafana beat the Super Eagles 2-1, with goals by Shaun Bartlett and Benedict Vilakazi in a friendly international.
"We (South Africa) shouldn't feel inferior to Nigeria. It's no help looking at their players and seeing which clubs they play for. That is only on paper.
"Before our game in 2004, they were all talking about beating South Africa 4-0 ahead of our game, but we forgot about that and just played our game.
"What South Africa needs to be doing, is not to get worried about past statistics and history. The current players can create their own future and mentally they should just get ready to focus on the job.
"In 2004 it was the same. We wanted to perfect the way we played at that time and when we won the ball, we wanted to get at them quickly and attack."