By Chris Onuoha
In commemoration of the World Health Organization's 'World Health Day' April 7, 2017, the management of International Youth Empowerment and Rehabilitation Centre, (IYERC) Maryland Egoro Amede Ekpoma in Edo State organised a two day show, April 6 – 7, for the inmates.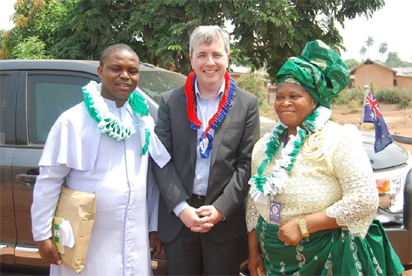 The youth empowerment home that takes care of the mentally sick youths in life transforming activities, such as prayer, reading, sports, recreation, creative exercises and manual labour engaged the inmates in a mental relieving exercise to mark and to reflect this year's WHD theme: "Depression: let's talk".
Speaking at the event, the Spiritual Director of IYERC home, Rev. Fr. John Damian Adizie stated that the best solution to the problem of insecurity, unemployment and insurgency is youth rehabilitation and empowerment. He also disclosed that so masny young people brought to the camp have regained their health and are reintegrated back to the society through this rehabilitation centre, while calling on government to come to the aid of Nigerian youths who are leaders of tomorrow.
"In Nigeria today, many people are depressed for so many reasons. Most families can barely feed well. Youths are badly depressed due to unemployment, economic recession and poverty in the land. There are also cases of insurgency, kidnapping and communal clashes. A good number of youths are trooping out of the country with most of them ending up in refugee camps and prisons. All these lead to unforeseen depression that kills faster that cancer.
"I believe it is not just enough to talk about depression without taking steps to cushion the effect.
Something has to be done fast. Government has a major role to play being that the state of the economy is in bad shape and the youths need job to have sense of belonging in the society." Fr. Adizie said.
He also stated that in view of addressing the current problem of depression in the land, the International Youth Rehabilitation Centre,(IYERC) Maryland Egoro Amede Ekpoma in Edo State, has created a platform where depressed person's can freely express themselves and their talents through debate, success stories, recreation and other forms of entertainments.
According to him; "The Int'l Youth Empowerment and Rehabilitation Centre is a home that provides medical, spiritual, psychological and other necessary support to young people who are facing depression due to unemployment, poverty and other existential issues in our country. The home has also attracted a good number of tourists and some medical students of higher institutions in the country who visit the home to interact with the wonderfully transformed youths."