Accuses Zone 5 of biased investigation
By Simon Ebegbulem
Benin—A Delta State-based businesswoman, Mrs Joy Ekere, who said she was beaten and locked up with her five-month-old baby by six policemen attached to Oleh Police Station, in Delta State, has petitioned the Inspector General of Police, IG, Mr. Ibrahim Idris.
She appealed to the Police boss to set up an independent committee to investigate the allegations.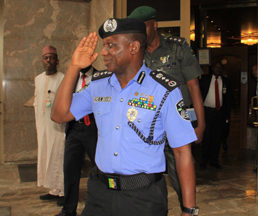 In a petition by her Benin-based lawyer, Mr. Dele Igbinedion, she lamented that she was beaten by the policemen, lamenting that the earlier committee set up by the IG, which was under the AIG Zone 5, Benin, may not do justice to the matter due to bias.
The petitioner said: "The decision by the IG to instruct the AIG Zone 5 to look into the same matter over which he (AIG) had sat for so long before we petitioned the IG would be, to say the least, totally unproductive. It would not achieve any tangible result.
"We request for an independent team of police officers unrelated to the office of the AIG Zone 5 to investigate this matter dispassionately.
"We are not asking for any form of favouritism.
"All we are asking for is that the police officers, who can use machetes on citizens, should not be left in the Police Force before they will kill innocent Nigerians.
"So we are appealing to the IG to set up a different team of officers. My clients are ready, able and willing to cooperate with a different team of investigators."