By Levinus Nwabughiogu
Abuja—Senate President, Bukola Saraki, has said he was not in a position to reverse the suspension of the senator representing Borno South, Ali Ndume.
Saraki said he lacked the powers to unilaterally recall Ndume, saying the suspension was a decision of the Senate.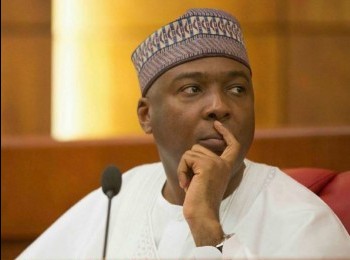 Similarly, speaker of the House of Representatives, Yakubu Dogara, said crisis was a natural ingredient of democracy.
Both leaders, who were at the Presidential Villa, Abuja, yesterday to meet with President Muhammadu Buhari, fielded questions from State House correspondents at the end of the meeting held behind closed doors.
Asked whether the visit of Borno State governor, Kassim Shettima, to him at the weekend on behalf of Ndume would make him reconsider his position, Saraki said it was not in his place to decide, but promised to take the issue back to the floor of the senate.
Ndume was suspended for 180 days last week, following allegations that Saraki bought a jeep without paying Customs duties and that Senator Dino Melaye was not a graduate of Ahmadu Bello University, ABU.
Saraki said: "We should try and understand how the parliament works. I wish I had such powers, these powers you give me. I wish I had them. The Senate President or Speaker is first among equals.
''They are just presiding officers but unfortunately, you know the legislative arm is the youngest, people don't understand. People give us these powers that we have.
"Decisions that are taken in plenary are decisions of all but I have a role to be able to convey the message. I will convey the message of the governor of Borno and the Senate is one. We are all one family. There will be issues like that, there is nothing that is sacrosanct or rigid."
Also speaking, speaker of the House of Representatives, Yakubu Dogara, said his visit to the Presidential Villa was routine, noting that there would always be crisis in a democratic government.
He said: "It baffles me when people see you visit Mr. President, they will think something is wrong. Nothing is wrong. It is routine visit.  This is a democracy we are running and we have to open the space to civil society, to everyone who feels aggrieved to be able to air his grievances.
''So, if they have grievances against the institution of the legislature, we will take it. You see the point is we should never run away from crisis. Crises are always wonderful opportunities for us to begin anew, to begin to examine things in a new way. So we should welcome crisis."