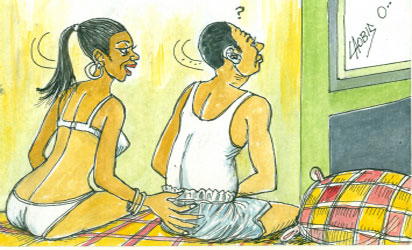 Lovers
Lagos – A 48-year-old clearing agent, Mr Francis Stephen, said on Wednesday that his wife is having an affair with her pastor and his younger brother.
"My wife is having sex with her pastor,'' Stephen told an Igando Customary Court in Lagos while responding to a request by his wife, Ogechi, for the dissolution of their 13-year-old marriage.
"My wife is sleeping with her pastor, when I got to know I confronted her and she confessed to me.
"Apart from having sex with her pastor, she was also cheating on me with my younger brother," he said.
The respondent also said that his wife was violent in nature.
"There was a day we had disagreement, she picked up a stone and broke the windscreen of my car," the petitioner said.
He said that Ogechi ran away with their children to her village when he told her that he would drag her to his family to confess.
"Last year, my wife absconded with our children to her village without my consent, she later sent me a message that she had gotten to her family in Imo and that she is no longer interested in the marriage.
"The children have stopped school since last term because my wife refused to bring them back to Lagos.
"One of my children who was due to write common entrance missed it.
"Her brother called me and told me that I should come and take the children that if I leave them for my wife, they may die of starvation.
"Please grant me the custody of my children because my wife is not working, she cannot take care of them, she just wants to punish me by denying me access to them," he said.
Stephen, however, told the court not to grant his wife's wish for the dissolution of their marriage, saying that he still loves her and the children will need a mother to live with.
The petitioner, Mrs Ogechi Stephen, had approached the court seeking to end her 13-year-old marriage over frequent beatings and drunkenness.
She said that her husband beat her on slightest provocation.
"He always beat me during heated argument, I live every minute of my life in fear, our marriage had been turbulent and fraught with fights and quarrels, no peace of mind.
"There was a day my husband threatened to pour fuel on me, as he was bringing the fuel towards me, I quickly ran for my dear life.
"There was a night he was inciting incantation calling demonic power to kill me," the estranged wife said.
The 42-year-old woman said that her husband drinks and smokes heavily.
"My husband drinks to stupor and smokes, after which he usually loses self-control," she told the court.
The mother of four said that her husband packed her belonging to her village claiming that he was no longer interested in the union.
She begged the court to dissolve the union, saying that she was no longer in love with Stephen.
The court president, Mr Adegboyega Omilola, adjourned the case to June 6, for further hearing.