By Chris Onuoha
A catholic priest, Rev. Fr, John Damian Adizie of Catholic Adoration Healing Ministry, Ekpoma, Edo State, has admonished Nigerians who have symptoms of Paranoid Personal Disorder (PPD) and other related cases to seek mental help at the right time to avoid unpleasant situation that leads to suicide or self inflicted disorder.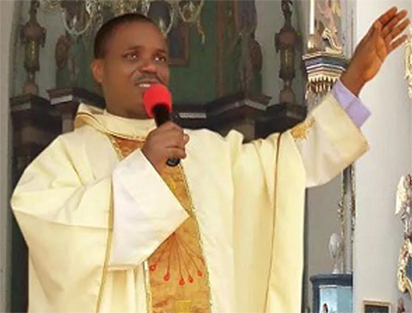 The cleric who is the Spiritual Director, International Youth Empowerment and Rehabilitation Center, Egoro-Amede, Ekpoma, Edo State disclosed this in his official statement to the press concerning health situation in Nigeria as the world all over celebrates International World health Day, April 7, 2017.
According to him; "Today is a day set aside by the World Health Organization (WHO) to reflect on the importance of good health.  It is also a global health awareness day used to draw worldwide attention to global health issues. A healthy person is not just someone who is physically sound, but also someone who is holistically sound. And to be healthy holistically one has to be physically, psychologically, emotionally, mentally and spiritually fit."
"Considering the negative effects and the rapid increase of people with depression in our society today, especially the high rate of suicide cases going on in Nigeria, it is indeed timely and consequential to talk about depression before it gets off hand. WHO's special health day theme is "Depression: Let's talk" and it is the right time to talk, discuss and proffer solutions." Fr. Adizie said.
Speaking further, she stressed; "So many people, especially the youths are depressed while some are fade up with life due to the global economic meltdown. Nigeria happens to be among the nations with a huge number of depressed persons. The current economic recession is biting hard on most Nigerians. Most homes cannot afford daily bread while parents who cannot afford their children's feeding and school fees are prone to depression."
"Other factors like the issue of communal clashes, kidnapping, Boko Harram, Fulani herdsmen attacks and other related insurgencies even unemployment among youths constitutes to social and psychological disorientation people are suffering with. Generally, people who are depressed usually feel lonely, sad, miserable and even frustrated for no genuine reason. Any little thing can provoke a depressed person to anger. A depressed person has little or no appetite for food and usually withdraws from people." He added.
Way forward
In his candid opinion, he stressed that "A problem shared is problem half solved. However, focusing on the theme of this year's World Health Day "DEPRESSION: LET'S TALK." the next stage is to talk about it after admitting the feelings. Communication is important by all and sundry. Unnecessary lowliness can lead to melancholy and depression. When someone feels rejected and dejected with no one to communicate with, depression will certainly set in. look for a trustworthy friend and share your feelings. Spiritual directors and therapist can be of help. A good therapist creates a platform for the depressed person to express his or her feelings freely. Relaxation techniques can liberate someone from depression. Engage in activities you enjoy. Watching comedic movies, dancing and other recreation activities can bring one out of depression. Forgiving oneself can be of help. Above all, with prayer and other spiritual exercises one can easily overcome depression."