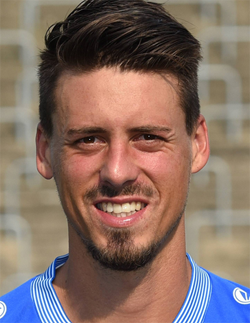 Sandro Wagner
Hoffenheim's top scorer Sandro Wagner says he will be fit to face runaway Bundesliga leaders Bayern Munich at home on Tuesday despite his stomach-churning "ET" finger injury.
Wagner has hit 11 Bundesliga goals this season to leave Hoffenheim on course for a Champions League place for next season.
But the 29-year-old was in pain after dislocating his left index finger, which was at a crooked angle before treatment, in Friday's 3-1 win at Hertha Berlin that left Hoffenheim third in Germany's top flight.
He dislocated the digit during a challenge with Hertha striker Vedad Ibisevic after 14 minutes at Berlin's Olympic Stadium but, full of adrenaline, Wagner finished the game with the finger heavily strapped.
"There was a bit of pain and some shock, but it looked worse than it was," said Wagner.
The strange bend in his finger led to Hoffenheim coach Julian Nagelsmann dubbing it an "ET" finger injury, referring to Steven Spielberg's 1982 science-fiction blockbuster.
"He stretched his finger out like ET, but instead of his finger pointing up the sky, it was turned down towards the floor, which looked strange," said Nagelsmann.
On Saturday afternoon, both Hoffenheim and Wagner confirmed the finger was not broken.
"Finger dislocated, ligament and capsule injured, no need for an x-ray," said the club, while Wagner commented: "The finger is much better today."
Wagner added he fully he expects to face Carlo Ancelotti's Bayern as Hoffenheim strive to make their Champions League debut next season.
"The finger won't hinder me on the way to Europe," he said.
And Nagelsmann, 29, the youngest coach in Bundesliga history, joked there was no reason why Wagner would sit the game out.
"If it was a game of darts, he might be missing, but not for a football match," said Nagelsmann, who was last week voted Coach of 2016 by the German Football Association (DFB).