Germany said Friday the US air strike on a Syrian airbase was "understandable" following a suspected chemical attack on a rebel-held town but urged a political solution to the conflict.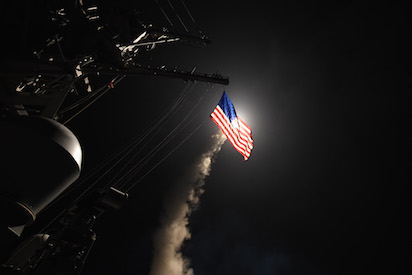 "The fact that the United States has now reacted with a strike against military sites of the Assad regime, from which this cruel war crime was perpetrated, is understandable," said Foreign Minister Sigmar Gabriel.
"It was difficult to bear that the UN Security Council was unable to clearly and unequivocally respond to the barbaric use of chemical weapons against innocent people in Syria," he said in a statement.
"Poison gas is an internationally outlawed weapon. On this the world community agrees," added the statement, released while Gabriel and his French counterpart Jean-Marc Ayrault were visiting the West African country of Mali.
"As understandable as the US military strike against the military infrastructure was after the failure of the UN Security Council, it is now crucial to launch a joint peace effort under the umbrella of the UN.
"We must now fully support the work of the United Nations to achieve a political solution to the civil war.
"Only a new and democratic Syria will bring lasting peace," he added, stressing that Europe and Germany supported such an outcome.
"The terrible events of the last few days show that the regional parties to the conflict as well as the US and Russia are needed for this."