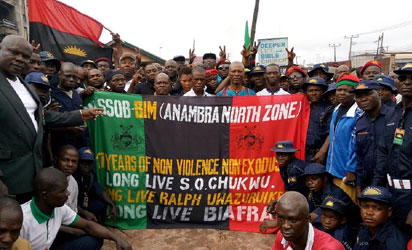 Members of the Movement for the Survival of the Sovereign State of Biafra (MASSOB) during their rally to mark the 17th anniversary of the movement, yesterday, in Awka, Anambra State.
…As MASSOB asks southern lawmakers to reject grazing bill
By Dennis Agbo
ENUGU—Apprehension has enveloped Neke and other communities in Isi-Uzo Local Government Area of Enugu State as suspected herdsmen continued sporadic  shooting from Monday night to yesterday.
A native of Neke community, Mr. Chidi Odoh, who spoke with Vanguard, confirmed the shootings, saying it started since Monday night at Ndiagu Umuegwu, an area between Neke and Obollo communities.
"I heard the gunshots not more than five minutes ago. They have been shooting there since last night but our people have mobilized to go there," Odoh said.
Security Adviser to Governor Ifeanyi Ugwuanyi, Gen. Fred Eze (retd), however, said the situation was not that bad, based on the interim report he received.
Eze said it  could be herdsmen moving from the North to Ebonyi state, adding that he has mobilized the army and the Divisional Police Officer at Ikem to the scene.
He said: "Based  on the interim report before me, there is no cause for alarm and security operatives have been dispatched to the area. I spoke with the leader of herdsmen in Isi-Uzo, who told me he has directed the herdsmen to leave Neke."
Contacted, Caretaker Committee Vice Chairman of Isi-Uzo Local Government Area, Mr Samuel Ugwede, told Vanguard that they were moving with security personnel to the area.
MASSOB asks Southern lawmakers to reject grazing bill
Meantime, the Movement for the Actualization of the Sovereign State of Biafra, MASSOB, has pleaded with national assembly members from the southern part of the country to reject the grazing bill currently on the floor of both chambers of the assembly.
MASSOB, under the leadership of Comrade Uchenna Madu, said it has advised and warned southern members of national assembly over the subtle dangers of the grazing bill.
Deputy Leader of MASSOB, Chief Ikechukwu Ekwe, in a statement said: "Your land, when taken, shall be assigned to herdsmen who shall use it for grazing purposes.
"They shall bring cows to the land and you shall lose the land permanently to those Fulani cattlemen.
"The National Grazing Reserve Council would have the power to take away your land from you anytime they want and pay you whatever they want as compensation, even when you don't want to sell, and remember that for you to get compensation, you must have documents showing or proving ownership.
"MASSOB implores the people of Biafra and Oduduwa to  rise and reject this Bill. It is a subtle design to mortgage the future and survival of our people.
"The people of Biafra and Oduduwa  must do every thing possible to compel our national assembly members to desist from passing that bill into law."
"That bill is a deliberate attempt to take our lands and hand the land over to the Fulani cattlemen since it is only the Fulani's that rear cattle in Nigeria.
"That law, when passed, shall fulfil the directive of Uthman Dan Fodio and other northern leaders to take over other parts of Nigeria and forceful implement Islamic religion on southern Christians.
"MASSOB urges our people to use all available means to implore their senators and House of Reps not to pass that law.
"That law will destroy our people and land. All over the world, ranches are established and used to rear cattle. The farmers buy land and put their cattle there.
"There is no country where the land of the citizens are compulsorily acquired and given to others. This is evil, and designed to favour the Fulanis where the president Buhari comes from.
"We must resist the passage of that bill into law to save Nigeria, and to protect our future generations. We must defend our land and protect our children.
"MASSOB under our leader, Comrade Uchenna Madu will continue to protect, defend and stand for the interest and survival of the people of Biafra. We shall never relent on our pursuit for Biafra actualization and Restoration through non violence."