By Henry Umoru
ABUJA—THE Senate yesterday rejected an interim report on Southern Kaduna crises and other parts of the county over what it described as very poor recommendations by the committee.
It also asked the committee to go back and do a thorough job.
Senator Kabiru Gaya, APC, Kano South presented the 60-page interim report set up in January 2017 to investigate the causes of farmers/herders clashes in Southern Kaduna and other parts of the country, sequel to the resolution of the Senate upon a motion by Senator Danjuma La'ah, Kaduna South.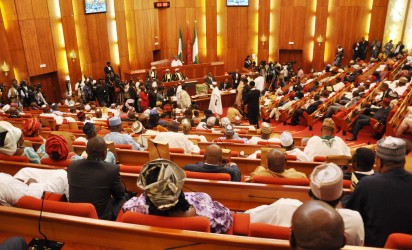 The committee was to also look at cases of clashes between herdsmen and farmers in Zamfara, Benue, Enugu, Abia, Taraba, Kano, Nasarawa, Delta, Edo, among others.
In his presentation yesterday, Senator Gaya called on Governor Nasir El-Rufai of Kaduna State, to publish previous white paper reports on Southern Kaduna crisis, adding that the state had so far invested N15.61 billion on internal security, and Zamfara State, N14.9 billion.
Senator Gaya in the report alleged that 70 per cent of police officers posted to Southern Kaduna, were indigenes of the  place, a development he condemned and called on the Inspector-General of Police Mr Ibrahim Idris, to correct the imbalance.
In the general recommendations for all affected states, the committee, which has eight senators as members, asked the government of the affected states to collaborate with traditional rulers, political and religious leaders to initiate, monitor and implement holistic reconciliation strategies through regular and inclusive town hall meetings, in order to restore permanent peace in the affected communities.