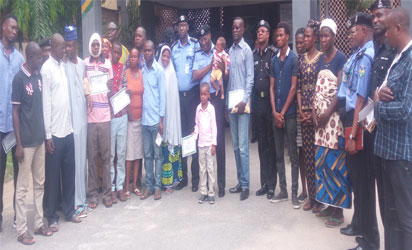 Widows of slain policemen, survivors, CP Owoseni and other police officers
•Emotions as deceased, surviving policemen are honoured
By Evelyn Usman
As the day goes by , news of the killing of four policemen , an Army Captain and two residents, three weeks ago in Yewa Ishawo community in Ikorodu, by militants who attempted to abduct residents, is gradually fading away from the memories of most Nigerians.
But same cannot be said about the immediate family members of the slain security agents, who are devastated and are still wallowing  in grief, pain and sorrow.
This was evident in their forlorn and crestfallen expressions, as the widows'  children and relatives of the four slain policemen made their first official appearance at the Lagos State Police Command, Tuesday.
The deceased policemen were: Inspector Godwin Ogbalechi, Inspector Francis Pemi, Sergeant Mamuda Kembo and Sergeant Idor Ikoro. But late Ikoro's widow could not make the outing as she just  delivered a baby.
Crime Guard  gathered that she spends her days alone with the baby, apparently ruminating on how to forge ahead with the responsibilities saddled on her by the demise of her husband.
Another widow , Mrs Kembo , cuddled her six-month -old baby girl , trying hard not to betray her emotion .The purpose of their gathering at the command was to receive a post humous award on behalf of the deceased policemen. In addition to the Commissioner of Police Commendation , was an undisclosed cash donation which was contributed by men and officers of the command.
As if acting on instinct, six-month -old baby Kembo , let out a shrill cry immediately her late father's name was announced. Her mother had to pacify her as she stood up with some members of her family to receive her late husband's posthumous award and cash.
I miss my husband-widow
When  Crime Guard  approached the widows, their relatives declined any interaction with them, saying they were yet to come to terms with the rude shock of their spouses' demise.They only allowed this reporter to exchange pleasantries with them.
During the brief chat, the widows said they had resigned themselves to fate. They described having security agents as spouses as one major marital risk that spurred them to pray for the safety of their spouses. They said that each time their husbands went to attend to distress call , they would be on their knees praying until they returned.
But the Ishawo incident took them unawares as their husbands were on night duty when they got the distress call. They added that news of the incident did not get to them until hours later, when friends and close relatives of the deceased policemen were assigned to break the news to them.
During a brief interaction with Mrs Kembo, she said " I will forever miss my husband. He was a good man who never wanted me to work but insisted I stayed at home to take care of our children.
He was not rich but he ensured we were okay . We were together as a couple for nine years, until death came calling. We had dreams we intended to actualise together but death denied us the opportunity. I heard the news of his demise from a friend of his. I was shattered no doubt but Allah knows the best."
Mixed reaction
While families of the fallen policemen were in grief , their colleagues who went on the same mission but escaped death by the whiskers are, on the other hand, thanking God for sparing their lives. They also benefited from the award of the CP's  commendation letter, for their act of bravery , in addition to an undisclosed amount of money .
Information at Crime Guard's disposal revealed that the militants outnumbered the security agents during the operation. While eight policemen including the Divisional Police Officer in-charge of Owutu division, Ejiofor Okpara, raced to the scene when they received the distress call, personnel of the Nigerian Army who went to assist them were said to be six. But their enemies were over 30 .
War theater
The militants , who were clad in military camouflage , stormed the area at about 1am in 10 speed boats. While some of them positioned themselves strategically around the creeks, others marched into an estate in the community where they broke into buildings and abducted     occupants, amidst sporadic gun shots.
Security agents who stormed the scene reportedly succeeded in rescuing the abducted residents but on their way back from the creeks,  they were ambushed.
It was gathered that the security agents were overwhelmed . Although they put up an act of bravery but their enemies capitalised on the terrain to have an upper hand. A member of the Odua peoples Congress, OPC, identified simply as Osaze who volunteered to join the operatives,was set ablaze with a police patrol van when bullets aimed at him could not fell him.
The survivors
The lucky policemen who are alive to relate their ordeal includes; DPO Owutu,  Ejiofor Okpara, a Chief Superintendent of Police,CSP , Sergeant Olatunji Gbadebo , Sergeant Alexander Igadu and Sergeant Orumo Awhari .
The DPO and Sergeant Awhari sustained minor bullet wounds and have since resumed duty. Sergeant Gbadebo is, however, still nursing his wounds as both hands which were riddled with bullets are still in bandage. But the situation of Sergeant Igadu seems to be the most severe among the surviving policemen, as he was reportedly shot in the head, jaw and waist during the encounter.
He was discharged from the hospital on Monday, having spent over two weeks. But he is unable to walk on his own, except he is assisted.
In spite of the excruciating pains , he still came to pat the back of his deceased colleague's five year-old son who went to receive his late father's award from the CP. Thereafter, he muttered in pigin English "  him papa na brave man".
Presenting CP's commendation letters to the beneficiaries, the command's boss, Fatai Owoseni described every policeman who participated in the operation as "brave and dedicated who paid the supreme price by sacrificing their lives for the safety of Nigerians."