By Henry Umoru
ABUJA—THE Senate has begun to probe the speed limiting device initiative introduced by the Federal Road Safety Commission, FRSC, saying if implemented, it would further traumatized the suffering Nigerians that are already going through the current economic hardship.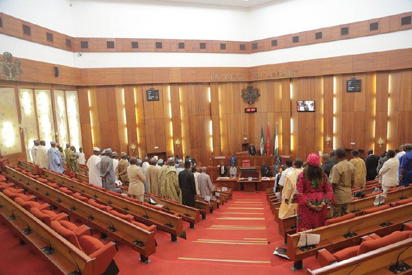 The Senate, yesterday, mandated the Senator Tijani Kaura (APC, Zamfara North) led Committee on Federal Character to, as a matter of urgency, carry out a holistic investigation of plans by the FRSC to introduce the speed limit policy and sell the same device to road users.
The resolution of the Senate was sequel to a point of order motion raised by Senator Dino Melaye (APC, Kogi West), just as he asked the  Senate to stop the policy which he said was bound to inflict more hardship on the people.
Senator Melaye said: "I draw inspiration from Order 43, Mr President, I bring to the notice of the Nigerian Senate, the house of the talakawas that the road safety is proposing and about to implement a policy that will not go down well with the masses of this country.
"There is a proposal by the road safety to introduce speed limit device and this device is to be sold to individuals by FRSC and if you have two cars, you will buy two devices, a speed limit device.
"Mr. President, my respected colleagues, this is not the time to bring hardship on the already traumatised people of this country. In civilised part of the world, it is the responsibility of road safety or agencies like theirs to mount speed limit device on roads that when you beat such device, they either flag you down or go after you.
In his remarks, Senate President, Dr Bukola Saraki referred the matter to its committee on Federal Character for further legislative action.