The Nigerian Navy has received eight assault gunboats from Rivers State government that it says will boost its fight against oil theft and sea robbery which has become commonplace in the Niger Delta.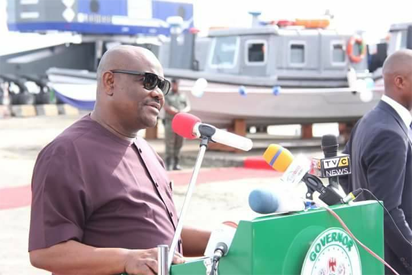 At the inauguration of the gunboats in Port Harcourt, Chief of Naval Staff, Vice Adm. Ibok Ete-Ibas said the eight gunboats would complement another batch of 12 gunboats delivered earlier by the Rivers government, all geared at securing the state maritime environment.
Governor Nyesom Wike has even promised to donate 13 more boat, bringing the government's contribution to 33.
Vice Adm. Ibok Ete-Ibas said the gunboats would boost Navy's patrol capabilities and speed up response of troops to reported crime scenes and thereby discourage criminality on the waterways.
"The Navy appreciates the expectation attendant to delivery of these gunboats and we assure that the Navy will be prompt in committing the assets to operation.
"The gunboats would be deployed to impose order and security along the waterways in Rivers state with focus to boost economic activities.
"This deployment would facilitate free passage for the people to conduct their legitimate businesses without hindrance by criminal elements.
"To this end, the gunboats have beefed up the Nigerian Navy boat fleet to over 100 assorted boats which have enhanced the security of the waterways and the coastal communities," he said.
Ibas commended Gov. Nyesom Wike for his support to the navy and promised that the boats would be used for its set objectives.
Gov. Wike said that his administration was committed to securing lives and property in the state.
He pointed out that his government's partnership with the navy and other security agencies had yielded positive result as crime had reduced in the state.
"However, these gunboats are for security of lives and property of Rivers state alone as it should not be taken to neighbouring states on any account.
"Any state government that wants to secure her waterways should purchase its own gunboats because securing live and properties of Rivers people is paramount to the state government," he said.
Wike said the state government would further acquire 13 Special Boats that would be distributed to the Nigerian Navy, Army and the Police.
The gunboats were fitted with 200 horse power engine; 12.7mm machine guns, automatic grenade launchers and communication gadgets.