….Cadbury, Nestle, Unilever spent N132bn
By Nkiruka Nnorom
TOP consumer goods manufacturing companies listed on the Nigerian Stock Exchange, NSE, are facing deeper financial difficulties arising from economic headwinds especially foreign exchange related cost pressures and inflation, leading to sharp increase in  manufacturing inputs, particularly, raw materials and packaging items.
This is reflected in the audited financial results of four consumer goods giants – Cadbury Nigeria Plc, Nestle Nigeria Plc, GlaxoSmithKline, GSK Plc and Unilever Nigeria Plc – for the financial year ended December 31, 2016, which shows 25 per cent rise in cost of raw materials procurement, from N96.3 billion in 2015 to N132.8 billion. This was coming despite remarkable decline in volume of output, capacity utilization and Manufacturing PMI during the period.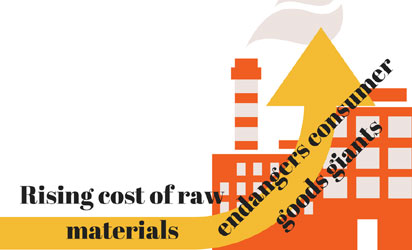 Cost of raw materials
The results also showed that the companies spent more on raw materials when compared to total cost of sales. While in 2015 cost of raw materials accounted for 63.9 per cent of cost of sales, in 2016, despite reduced level of manufacturing activities, cost of raw materials accounted for 72 per cent of total cost of sales.
Whereas all three companies, with the exception of GSK, recorded different degrees of increase in earnings, high cost of sales and distribution, particularly, cost of raw materials and packaging items, including energy cost meant that profit before tax and dividend for the year was constrained.
Though they posted N296.02 billion in revenue, 16.7 per cent increase over N252.71 billion posted by both companies in 2015, it was wiped out by a combination of high cost, unrealised exchange rate losses and high finance cost resulting in significant decline in profit.
Consequently, profit before tax for the four companies fell to N25.28 billion, representing 25.1 per cent decline compared to N33.74 billion achieved by them in the same period in 2015.
Cadbury ended up in loss position during the year, while GSK and Nestle managed to stay their heads above the troubled waters, though they recorded steep decline in profitability. However, Unilever, on the other hand, recorded increase in profitability.
  Company breakdown
Cadbury
Breakdown showed that Cadbury posted N29.98 billion revenue but cost of acquiring raw materials and energy & utility pushed the company to N562.870 million loss before tax compared to N1.577 profit before tax recorded in the previous year. Item by item breakdown showed that raw material procurement gulped N12.134 billion as against N8.17 billion spent in 2015, a 48.5 per cent increase and 64.7 per cent of the company's total cost, which stood at N23.119 billion.
Energy and utility took another chunk of N2.114 billion in 2016 compared to N949.74 million in 2015.
Added to this is high finance cost which rose to N17.798 million and unrealised exchange rate losses of N34.638 million which resulted in zero dividend declaration compared to N1.22 billion paid the preceding year in 2015.
Nestle
Though Nestle Nigeria Plc recorded 20 per cent increase in revenue to N181.91 billion during the year, rising cost of raw material and other consumables which stood at N75.45 billion compared to N57.42 billion in 2015, including N16.29 billion net loss on foreign exchange transactions resulted in 27 per cent reduction in profit before tax to N21.55 billion as against N29.322 billion during the previous year. The cost of raw material stood for 41.3 per cent of the company's total cost and depleted the revenue by 58.5 per cent. Unlike Cadbury shareholders that are supposed to forfeit their dividend due to the ongoing crisis, Nestle on its part proposed N15.06 billion dividend for the shareholders, 31 per cent decline over N21.78 billion declared in the previous year.
  GSK
Though GSK's cost of procuring raw materials and total cost of sales decreased significantly to N742.7 million from N2.12 billion and N5.42 billion from N9.97 billion respectively, profit before tax fell by 82.6 per cent to N185.9 million from N1.07 billion in 2015.
  Unilever
Unlike the rest of the companies, Unilever Plc remained resilient in the face of the negatives that pervaded the business environment during the year. The company achieved whooping 131.9 per cent increase in profit before tax to N4.11 billion from N1.77 billion in 2015. This is despite the increase in cost of raw material and consumables which gulped N36.68 billion from the company's revenue for the period, an 28 per cent increase compared to N28.64 billion in 2015. The company's total cost of sales rose by 22.9 per cent to N49.48 billion as against N38.17 billion in 2015.
  Local sourcing of raw materials, the way out – Operators
According to capital markets operators, CMOs, most of the manufacturing inputs used by manufacturers in the country, including raw materials are sourced abroad. They stated that there is need for them to develop alternative means of sourcing for their raw material, rather than depending majorly on importation.
"The main reason for the high cost of raw materials can be attributed to the exchange rate", said Charles Fakrogha,  Chief Relation Officer, Foresight Securities & Investment Limited.
He said: "The results of the company would hardly improve except they device a means of sourcing for their raw materials locally. Most of the raw materials are sourced from abroad. The results of these companies will not improve except they begin to be more creative and innovative in terms of their sourcing of these raw materials locally. On the alternative these input can also be substituted."
He opined that Cadbury Nigeria and Nestle Nigeria, as well as other companies in their sector would remain in remain in business if they are able to device means of reducing their cost and operating efficiently. It is only after that they can add value and operate profitably.
Continuing, he said: "The game changer will be an effective work force motivated to face the challenges imposed by the current harsh business environment and research into the use of local inputs to stop the dependence on imported raw materials."
Corroborating his views, Mr. Ayodele Akinwunmi, Head, Research, FSDH Merchant Bank Limited, attributed the rise to dependence on imported raw material and other packaging items. He argued that the companies have some 'local leverage materials that on their own have imported content.
Aggressive marketing strategy
"So,  the devaluation in the value of naira which affected the devaluation of the cost of the packaging materials and other raw materials, which they buy in Nigeria here account for that increase in the cost of those things they have. Again, the rising cost of the things we had here last year affected them. So, those two factors affected the prices of the things that they produce," he said.
On the way forward, Akinwunmi said there is need for them to source some of the manufacturing inputs hitherto imported locally while engaging in aggressive marketing strategy.
He said: "For them to remain very much more efficient, they should continue to look at local sources of raw materials. They should continue to engage in backward integration. Are there any of their products that they are importing at the moment that they can source locally in order to help them conserve some foreign exchange.
"So, what they need to do is to determine how they will remain very efficient in terms of cost cutting, engage in more aggressive marketing to ensure they continue to price their products, while trying cut some cost. As the economy continues to improve, which we think will improve this year, they will be able to sell more, people will have more money, people will go back to their jobs and buy their products because they are selling food.