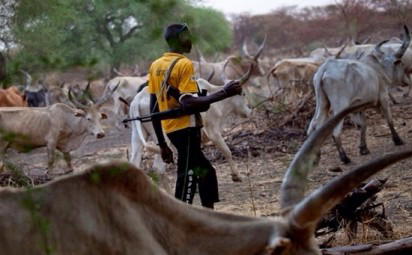 herdsmen
By Fredrick Okopie
The lawmaker representing Ethiope East in Delta State House of Assembly, Mr. Evance Ivwurie, has called on President Muhammadu Buhari, the Inspector General of Police, the Director General, Department of State Services, DSS and other security agencies, to come to the rescue of Ethiope East Local Government Area, Delta State, over the incessant killings, kidnaps, rapes and destruction of farmland by alleged Fulani herdsmen.
Ivwurie made the call at a meeting held at the palace of the Ovie of Oruarivie-Abraka Kingdom. Speaking at the meeting entitled, "Yet Another Incidence of killing in Ovre R' Abraka/Eku/ Igun," he said that the people of Ethiope East have kept their records, and have regularly in the past dutifully reported several incidences of killings, kidnaps, rapes, and destruction of farmlands by invading Fulani herdsmen to the Federal Government, the Police and other security agencies.
"Ethiope East LGA lands are fertile and the constituency is peaceful. This matter must be in the front burner and we call on the Federal Government of Nigeria to come to our aid."
These invasions by the said Fulani herdsmen and annexation of our land by Presco Plc cannot push us out of our God's given and sacred land."
He described claims by the Delta State Police Public Relations Officer, Mr. Andrew Aniamaka that the Ovre R' Abraka is temporary inhabited by a minimal number of herdsmen and that the herdsmen are living peacefully with the Abraka communities as a fat lie.