BY ROTIMI AGBANA
It is no news that entertainers all over the world live a flamboyant and extravagant lifestyle, and Nigerian entertainers are no exception. For Adegboyega Adeyemi, an artiste who is blessed with a captivating and alluring voice which will force you to listen to his songs whenever it plays to your hearing, the ugly incidence of December 25, 2016, which almost claimed his life and shatter his music dream will always ring a bell of warning to him whenever he intends to embark on a reckless night of fun at the club, a lifestyle that is idiosyncratic to entertainers.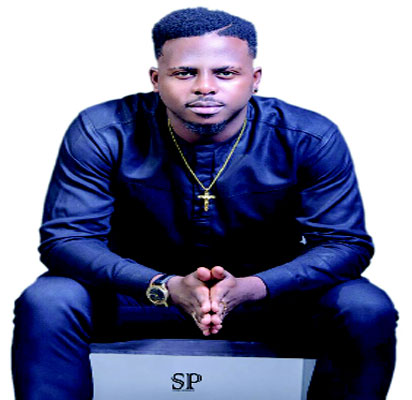 The fast rising singer who boasts of a unique style of music which he calls 'Urban Afro' would have been snatched by the cold hands of death on Christmas day last year if not for divine protection. In a brief  chat with Potpourri, the  Redeemers University  Physics Engineering graduate recounts his ordeal.  "2016 was a fantastic year for me until I had a ghastly motor accident around  5a.m  on Christmas day. I was coming from the nightclub with my friends and my brother who I have not seen for two years. The spirit was so high, I had a bit too much to drink and didn't realise I couldn't drive myself home safely. Just immediately after the Lekki toll gate, I just heard a loud sound and that was all. When I got down from the car, I noticed blood was all over me; I didn't even know where it was coming from until a lady who stopped to help me pointed to my forehead. Immediately, I started calling my friends but none could come to my aid, except my brother and his friend. We looked for hospitals on the Lagos Island but none was opened that early morning. I was later rushed to a hospital on the Lagos mainland where my forehead was stitched.  I almost lost my life in the accident. It almost ruined my music career but I'm grateful that I'm alive today.  I bless God for giving me another opportunity to live. I thank God that my dreams were not shattered", he recounted.
On the best moments of his music career so far, Adegboyega whose musical influences include Fela, Ebenezer Obey, King Sunny Ade, Celine Dion, and other old school artistes, mentioned a few to Potpourri. He said; "2016 was my best year musically. I performed at Civic Center, Lagos in front of many dignitaries including Governor Akinwunmi Ambode. It was indeed a memorable show for me. Another wonderful experience for me was when I performed at the State House in Abuja during the launch of 'Change Begins With Me' campaign, alongside Darey Art Alade, who happens to be one of those I look up to. And that same year, I had the opportunity of performing at the All Africa Music Awards (AFRIMA), which was the biggest stage for me. The crowd was energetic, the mood was high and the music was on point." Even without being signed to a record label, the 'never say die' singer has been pursuing his dream as a musician on his own. With the financial support and prayers of his parents and loved ones, he boasts of three singles to his credit, Kusi, After Round One,  and  Faya Dance, all with strong messages on the female folk.