The Queen's Baton Relay and the accompanying five-man team from the Commonwealth Games Association (CGA) on Wednesday departed the country after a five-day tour of Lagos for Nairobi, Kenya aboard Kenya Airways KQ533. They will move from Nairobi to Tanzania.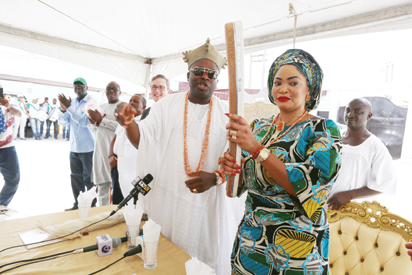 South Africa's Gideon Sam led the team comprising Adam Best, Patricia Quayle, Jeremy Sutton-Hibbert and Colin Briggs.
While in Lagos, the Baton visited Gov. Akinwunmi Ambode of Lagos, Greensprings School, Lekki, Oba Elegushi's Palace in Egushi, Lekki and the British Council.
It also went round mainland Lagos for people to see and have a feel of it.
Before their departure, Sam told NAN that Nigerians were indeed blessed with hospitality.
He said that they were welcomed and treated nicely everywhere they visited.
"I give it to Nigerians in hospitality; we were nicely treated all through our stay and it felt like home. We had maximum fun and I thank the Nigerian CGA and everyone involved in this event.
"Nigerians are very nice and willing to help at all times. We have also learnt about some of Nigeria's customs and traditions.
"At the palace I learnt some things and I was amazed by some stunts displayed there. The traditional dancers were awesome," he said.
The Queen's Baton Relay which will travel to many Commonwealth nations heralds the 2018 XXI Commonwealth Games in Gold Coast which will begin on April 4 and end on April 15 in Australia.
The Queen's Baton Relay will travel across the 70 Commonwealth nations. It will move around Africa, the Americas, the Caribbean, Europe, Asia and Oceania.
It will travel for 388 days and will achieve its being the longest and most accessible relay in Commonwealth history.