By Nkiruka Nnorom
Nduka Ude is the CEO, Simplified Corporate Logistics, SCL, an import, export procurement, documentation and clearing services company. In this interview, he says  lack of coordination among  supervising agencies in the export business is a big challenge.
What gap did exist in the logistics sector that your company, SCL, wants to fill?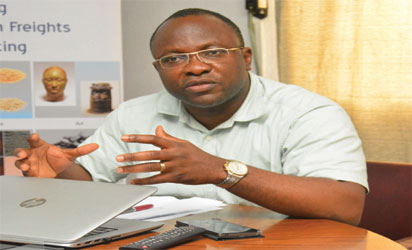 There is a lot of gap in the industry. We look at the import side for example. When you look at fake clearing agents, you have companies that suffer serious damage as a result of their activities. One of the things we are doing is that we are giving a new face to clearing, helping companies with transparency. A lot is going on in the industry. If you are a company and you are using agents who are not registered or bonded with the government, you could be in a serious problem in the next six months when you are audited and you discover that the duties you think you have been paying are actually not being remitted.
If you look at the export section, there is a lot going on in terms of government push for export and that is the main gap we are seeing. There is still a lot issues surrounding export which we are going to delve into as we proceed, but the process is still cumbersome. Just like import, you have well over 14 various agencies that have to sign in at the ports. For the export, it is still very complex. So, we are trying to take over the export role for most small and medium businesses, handle the documentation, the shipping and other aspects. Now, the biggest challenge that exporters have is that most companies will only export a container load of shipment to may be, USA. So, that leaves a lot of businesses that don't have that capacity. So, if I want to send a sample of my product, say one carton, it becomes difficult. We are working with Nigeria Export Promotion Council, NEPC, to provide an avenue to help you export the quantity of goods you have.
What is SCL's business model?
When you say business model, I probably look at it as who are customers are?Our key customers are the small, medium businesses, those that don't have the capacity for now to be exporting full container loads. When we say small and medium, a lot of individuals are in that category. Somebody who just wakes up and wants to send two shoes to the US because he has a buyer. Somebody who sees an opportunity to send, may be, ginger to the US or Europe because he has a buyer. So, that is the kind of people we are looking at. We try to group their shipment as well and send it to them. This group of people don't have the capacity to reach out to buyers to handle the co-export process alone.
One key issue with exporting from Nigeria is that most times, some of these produce are not acceptable in Europe and US. What are you doing to help the exporters?
The challenge the exporters face is that a lot of them are not aware of the rules and regulations guiding the export process. You know the way we do things in Nigeria is not the way it is done in Europe or US. Whereas in Nigeria, I can just put my beans in a bowl and take it to the market, if you are sending that same beans outside Nigeria, you have to follow the laws. The US, our key export destination, has FDA that governs the packaging of these products and that is one thing a lot of them don't know. When you look at it, it is more of a check-list that says, 'if  I am exporting yam, these are the things I need to bring'. It simplifies the process completely. We help you with links to do the FDA registration if need be. Not everybody needs to do that. But the key thing is that we help you with the whole documentation process.
There must be challenges. Can you highlight some of them?
The biggest challenge we and most small businesses face is the multiplicity of agencies and poor coordination among the various agents. When we started this business, I told my team to go out there and give us the breakdown of how export is done. When they brought the diagrammatic response of process for export, you think you are trying to send a rocket to space. You have so many layers; you have to get this form, get that form and you have to do inspection with all manner of agencies. At times, when you go to the website, the addresses of some key government parastatals that are supposed to inspect your goods before they are exported, you will not find them there. So, these are some of the challenges that a lot of these small businesses are facing. They don't know where to get what. For instance, You go to 90 per cent of bank branches in Nigeria to get the Export Proceed Form you have to fill with a bank before you export, they will tell you they have no clue where to get that from. Those are some of the challenges we face and these are some of the difficulties these small businesses face.